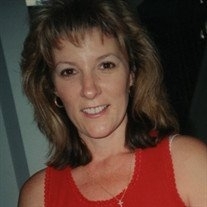 Nancy Karen Halwick, age 56, of Huntingtown, Maryland formerly of Clinton, Maryland passed away Friday November 30 at her home with her family by her side. She is the loving wife of Michael P. Halwick, Jr. and loving mother of Kayla Halwick and Kelsie Halwick. She is the sister of Larry Smith, Betsy Halweg and the late Jean Marie Jenson.

Mrs. Halwick lived in Huntingtown for over twenty years and was the most devoted mother to her daughters, Kayla and Kelsie. She could be found at various sporting events routing for them, enjoyed shopping with her daughters, especially going to the mall. Nancy enjoyed boating, swimming, skiing, going to the beach and cooking her famous lasagna for the family.

Family will receive friends at the Lee Funeral Home Calvert, P.A. 8200 Jennifer Lane, Owings, MD on Thursday December 6, 2018 from 2-4 p.m. and 6 p.m. until time of services at 7 p.m. Interment will be private.