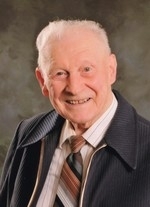 Peter Paul Mozick, 97, of Leonardtown, MD passed away at St. Mary's Nursing Center on November 29, 2018. He was born on June 10, 1921 in Phillips, Wisconsin the son of the late Frank & Anna Mozick. The family relocated to Delaware where he graduated from Harrington High School. After graduation, Peter served several years in the Civilian Conservation Corps working in camps both in Delaware and New Jersey.

He enlisted in the Army during WWII and received training in Chemical Warfare and Clerical School. His service include tours in Africa,England, France, and Germany as a member of the Supreme Headquarters Allied Expeditionary Force (SHAEF) and was awarded several decorations including a Bronze Star and Good Conduct Medal. After being discharged, he was employed by the U.S. Department of State as a Communications Specialist retiring after 30 years in 1974.

He relocated to St. Mary's County with his wife Francis residing in Lexington Park and Leonardtown. During retirement he was an active member of the "Senior Vibs" musical group for over 15 years providing entertainment to various groups including the local Veterans Home and St. Mary's Nursing Center. Peter is survived by his son Donald and his wife Pamela of Middleburg, FL his Sister Mary of Carnegie PA, two grandchildren, Christopher and Melissa and several great grandchildren. He was preceded in death by his wife Francis, parents Frank and Anna, and brothers Emil, Joe, and John. Arrangements by Mattingley-Gardiner Funeral Home.