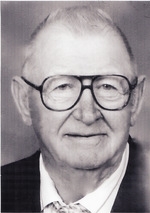 William Edward Dixon Jr., "Bill", 96, of California, MD formerly of Great Mills, MD passed away on November 24, 2018 in Prince Frederick, MD. Born on August 28, 1922 in Great Mills, MD he was the son of the late Johanna Feldman Dixon and William Edward Dixon. Bill was the loving husband of the late Dorothy Elene Cochran Dixon whom he married on March 28, 1947 in Berkley, CA and who preceded him in death on December 16, 2001. He is survived by his children Raymond E. Dixon of California, MD and Janet Lee Dixon Fullerton of St. Inigoes. Bill is preceded in death by his brother, Herman Walter Dixon.

William Edward Dixon was a lifelong resident of St. Mary's County. He was born in Great Mills without the comforts of a hospital. He sometimes relied on the skills of a local medicine woman when he had illness or ailment. His schooling was limited but adequate. Like many men of his generation when WWII was thrust on the United States he answered the call to war. He volunteered for the Navy and the quickly volunteered for Submarine service. He went to sea in the Pacific based in Pearl Harbor. He made several war patrols earning the navy's combat medal. He was briefly assigned to the Navy submarine school in Groton Connecticut where he shared his experiences while training new submariners. He served for a total of 11 years during which he completed his high school GED.

His service included assignment aboard a submarine tender supporting the Korean War effort. Bill's service stations also included USS Pike (SS173), USS Lancetfish (296 Plankowner) USS Chivo (SS341), USS Remora (SS487), USS Proteus (A519), USS Barbero (USSA 317), and the Patuxent Naval Air Station. While serving in the Navy Bill was awarded the Asiatic-Pacific Area Campaign Medal, Navy Good Conduct Medal, World War II Victory Medal, American Area Campaign Medal and S/M Combat Insignia.

Upon discharge Bill and his brother Herman built boats and he returned to life as a waterman. They built the 42 foot charter boat, Ray-Lee. He started his own charter business and was "Captain Bill" to many clients until 1978. The two brothers had built the Starfinder, a 38 foot workboat that served well while crabbing and oystering until he retired at age 83. He remained a friend and adviser to some. He made no enemies.

During his last years he attended several submarine reunions where he enjoyed exchanging sea stories. He was sought after on those occasions to relate episodes aboard the USS Pike and USS Chivo as a proud member of what some call the greatest generation. He met Dorothy Cochran, his wife while serving in the navy and together they had two children Raymond and Janet. He enjoyed fishing after retiring and shared his skills at catching fish and crabs and oysters with only a few.

The family will receive friends on Friday, November 30, 2018 from 8:30 AM-9:30 AM in the Mattingley-Gardiner Funeral Home, Leonardtown, MD where a Funeral Service will be held at 9:30 AM in the Funeral Home Chapel with Pastor Mike Jones officiating. Interment will follow in Trinity Memorial Gardens Cemetery Waldorf, MD. Pallbearers will be: Raymond E. Dixon, Timothy Fullerton, Bob Earhart, Ken Wible, John Bosserman and Janet Dixon Fullerton. In lieu of flowers please make a donation to the Patuxent Presbyterian Church 23421 Kingston Creek Road California, MD 20619. 301-863-2033.