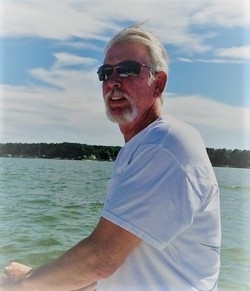 Jeffrey John Swanson (Cap't Jeff), 68, passed away on Friday, July 6, 2018 at his home surrounded by his loving family and friends. He was born on November 6, 1949 in Bradford, PA to the late Lamurr Reann Swanson and Phyllis Emily Bryant Swanson.

Jeff grew up in Sanborn, NY. In June 1969 he enlisted in the United States Army and proudly served his country until his honorable discharge in June 1971. He was employed many years as a skilled Steamfitter with Local 602 Union until his retirement in 2013. He was a former instructor at the Harry Lundeberg School of Seamanship. In 2006, he married his beloved wife, Laurel Ellyn "Laurie" Bradford in Key West, Fl. Together they celebrated over 12 wonderful years of marriage.

He loved spending time on the water, especially on his charter boat, "Mainsqueeze." He was an avid fisherman. He was a member of Smith Island Crab Skiff Association and a retired member of the Steamfitters Local 602 Union.

In addition to his beloved wife, Jeff is also survived by his siblings: Rean Swanson (Patricia) of Beaumont, TX, Sharon Swanson of Niagara Falls, NY and Philip Swanson (Jennie) of Norfolk, VA.; his nieces Keri and Kristen Swanson; and a nephew, Gary Swanson. He was preceded in death by his parents. All services will be private. Arrangements by the Brinsfield Funeral Home, P.A.