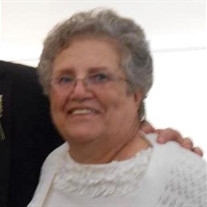 Lucy P. O'Bryhim, formerly of La Plata and Temple Hills, MD, passed away on Tuesday, July 3, 2018, in Leonardtown, MD, at the age of 86. She was born in Youngstown, OH, on March 9, 1932 to John and Teresa [DeMarco] Petrella. Along with being a homemaker, she worked as an aide at the Charles County Senior Center. She enjoyed watching movies, bowling, shopping and spending time with her family.

Lucy was the beloved wife of the late Kenneth R. O'Bryhim, who passed away in 1990. She was the loving mother of Nancy O'Bryhim, Terry Sherman (Donald), Ray O'Bryhim (Shari) and Robby O'Bryhim (Rhonda); the devoted grandmother of seven grandchildren, six great-grandchildren and the sister of Helen Gibson (Ben). She was preceded in death by a granddaughter.

Family invites friends to Lee Funeral Home Calvert, Owings, MD on Saturday, July 7 from 10 am until start of Funeral Services at 11 am. Interment will be private. Memorial contributions may be made to Cedar Lane Senior Community, 22680 Cedar Lane Court, Leonardtown, MD 20650.