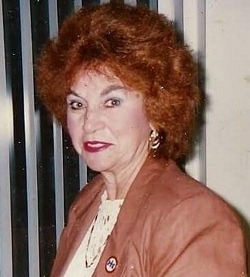 Nora Lee (Bowie) Coulby, 83, of Nanjemoy, Maryland passed away Sunday, April 8, 2018 at Woodlands Nursing Home in Midway, Georgia. Nora was born on April 11, 1934 in Hilltop, Maryland, a daughter of the late Walter and Daisy Lena Bowie. Nora was retired from the United States Post Office as a Postmaster for 25 years in Faulkner, Maryland. She enjoyed her bus trips to Atlantic City with friends, snuggles with her puggle Paul, and spending time with her children and grandchildren.

In addition to her parents, Nora Lee was preceded in death by her son, Howard C. Coulby, Jr. and brother, William Louis Bowie. She is survived by her sister, Patricia Arroyo and her husband, Fred of Hilltop, Maryland; three living children, Sharon Y. Baker-Lee and her husband, Wayne of Brunswick, Georgia, Walter E. Coulby and his wife, Janet of Nanjemoy, Maryland and Kenneth B. Coulby, also of Nanjemoy, Maryland. Nora also leaves behind 10 grandchildren and 14 great-grandchildren.

The family will receive friends on Saturday, April 14, 2018 from 9AM to 11AM at Arehart-Echols Funeral Home, PA (211 St. Mary's Ave., La Plata, MD); where a Funeral Service will start at 11AM with Rev. Bo Hancock officiating; Interment immediately following Service at Nanjemoy Baptist Church (3030 Baptist Church Rd., Nanjemoy, MD 20662). In lieu of flowers, donations can be made to the Alzheimer's Foundation of America (322 Eighth Ave., 7th Floor, New York, NY 10001/www.alzfdn.org).