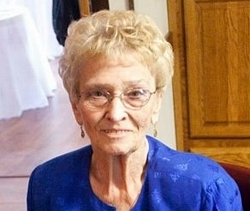 Frances Eloise Johnson (Smith), August 22, 1936 - April 7, 2018

Few in the county can recall a time without the presence of Frances Johnson. One of nine children born and raised in North Carolina, Frances lived in Virginia, New York, and Connecticut before settling down in Huntingtown. From co-managing the Port Republic Sparks girls softball team, striking pins with the Wednesday Morning Glories bowling league, or just playing cards with family and friends, Frances has been an active and vibrant member of the community since 1965, and made friends everywhere she went.

Frances showed her love for friends and family by keeping them connected no matter where in the world they were. Now, after a lifetime filled with adventures and pumpkin rolls, Frances joins her husband Harold "Papa" Johnson, who has surely been spending the past 11 years smiling down on his girl, waiting for her to join him.

Frances is survived by her daughters, Conni Evans and Kelly (Harry) Renninger; her grandchildren: Allyson (Rizwan) Malik, Alissa (Jason) Cox, Sean DeVore, and Katie (Mike) Smith; her great-grandchildren: Lilly and Owen; her siblings: Jo Munson, Teenie Waldrep, and Jimmie Smith and her many nieces and nephews. In lieu of flowers, the family asks that you make donations to Calvert Hospice. Arrangements by Rausch Funeral Home.