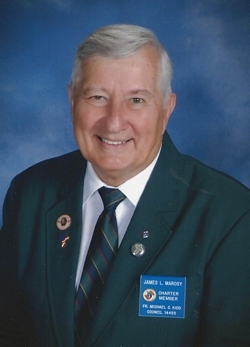 James Lee 'Moe' Marosy, 79, of St. Leonard, MD passed away suddenly on January 10, 2018 at his home (in his favorite chair). He was born to Helen and Edward Marosy on January 6, 1939 in Washington, DC. Moe grew up in Upper Marlboro, MD where he graduated from Frederick Sasscer High School.

He worked for the Post Office before joining the Army National Guard from 1960 to 1967, also working for NCR from 1959 to 1974 before starting his own Lawn Care business National Turf that his son Daniel still runs today. Moe married Peggy Hugya in 1962 and had 3 boys, James Michael, Michael Edward, and Daniel Lee who were raised in the Kettering subdivision of Upper Marlboro.

With the boys grown up and marrying off, Moe and Peggy moved to St. Leonard, MD in 1999. He belonged to Holy Family Catholic Church in Mitchellville, MD, for 50 years, becoming a 3rddegree charter member of the Knights of Columbus¬¬-The Father Michael C. Kidd Chapter in 2008. Moe enjoyed hunting, fishing, trips to the cabin he built in Fulton County, PA and spending time with his sons and their families.

He is survived by his wife of 55 1/2 years, Peggy (Hugya) Marosy; his sons James Marosy (Tina), Michael Marosy (Beth), Daniel Marosy (Debi); his grandchildren Bryann Marosy (Richard), Amanda Marosy (Grace), Madison Marosy, Benjamin Marosy and Delila Marosy; his great grandson Richard Jerome 'RJ' King V. He is also survived by sisters in-law; Betsy Hugya, Connie Hugya and niece Carmen Milligan.

The family will receive relatives and friends on Wednesday, January 17, 2018 from 10-11 AM at Holy Family Catholic Church, located at 12010 Woodmore Rd, Bowie, MD 20721. A mass of Christian burial will follow at 11:00 AM. Interment is private. Funeral arrangement entrusted to the Rausch Funeral Home of Port Republic, MD.