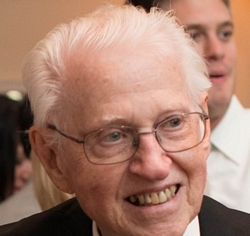 George R. Steinback Jr., 88, of Mechanicsville passed away peacefully at his home on Sunday, October 8, 2017 surrounded by his family. He was born in Montoursville, PA on November 23, 1928 to the late George Sr. and Violet Smith Steinback. George is survived by his wife of 68 years, Lillian Alberta Murdoch; his son, George III (Janet), his daughter, Zandra Frank (Doug); 7 grandchildren; Kara Weaver; Nerissa Heller, Lila Heller, Prema Arhin, George Steinback, IV; Philip Steinback and Adam Steinback; 5 great-grandchildren, Amy Weaver (13); Iyanna Heller (10), Tikus Arhin (6), Benny Arhin (2.5) and Bryden Steinback (1). His son Philip predeceased him in 1978.

George served honorably in the U.S. Air Force for 20 years retiring in August 1966 (MSgt/E7). He then worked for various Information Technology companies until finally retiring in 1990. George was a devoted husband, dedicated father, Sunday school teacher, youth baseball coach and Boy Scout leader. He enjoyed gardening, cooking, traveling, wood carving, politics, reading, and spending time with his family, especially his grandchildren.

The family will receive friends on Saturday, October 14 from 2-6 pm with a Memorial Service at 5 pm at the Brinsfield-Echols Funeral Home, 30195 Three Notch Road, Charlotte Hall, MD 20622. Interment will be private at Cheltenham Veterans Cemetery. In lieu of flowers, contributions may be made to Hospice of St. Mary's, P.O. Box 625, Leonardtown, MD 20650. Arrangements by Brinsfield-Echols Funeral Home.