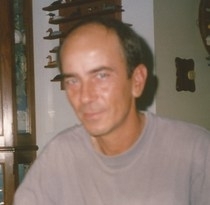 Thomas "Tommy" Philip McNey, 62, of Port Tobacco, MD passed away on August 2, 2017 at home surrounded by his family. Tommy was born in Washington, DC on October 1, 1954 to Milton E. McNey, Sr. and the late Dorothy Pinkerton. He is also preceded in death by his sister, Terri Edwards and stepmother, Bettte McNey. Tommy leaves behind his wife, Molly McNey; sons, Nicholas McNey (Renee) and Christopher McNey; brothers, Milton E. McNey, Jr. (Linda), John McNey (Luda) and Mark Taylor (Niniane); sisters, Cindy Voorhess (Lew), Kitty Mausen (Jeff) and Christy Stevenson; and grandchildren, Jaxon and Rebekah.

Tommy was employed by Giant for 25 years in Jessup, MD, working in the Fleet Maintenance Dept. and the Recycling Reclamation Dept. Tommy was a member of the St. Charles Sportsman's Club and enjoyed hunting and fishing. His favorite pastime was being with his family and friends.

Visitation will be held on Tuesday, August 8, 2017 from 6PM to 8PM at Arehart-Echols Funeral Home, PA (211 St. Mary's Ave., PO Box 567, La Plata, MD). Funeral Service will be held on Wednesday, August 9, 2017 at 11 AM at St. Joseph's Church (4590 St. Joseph's Way, Pomfret, MD). Interment immediately following Funeral Service in the Church Cemetery. In lieu of flowers, donations may be made in Tommy's memory to Hospice of Charles County (2505 Davis Rd., Waldorf, MD 20603). Arrangements by Arehart-Echols Funeral Home.