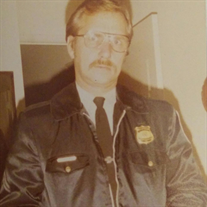 John Robert Mumaw of St. Leonard, MD, passed away at home on Wednesday, July 12, 2017 at the age of 75. He was born in Cheverly, MD, on September 12, 1941 to Rose and John Mumaw. John was the loving father of the late Vicki Mumaw, He was the uncle of Alayne Thorpe, Debbie Himmelreich, David Thorpe and Chris Thorpe. He is also survived by his cousin Kay Gariglio and many other family and friends.

John was a police officer for P. G. County, retiring in 1984 as a corporal. He was an active member of the Fraternal Order of Police Lodge #89 in Upper Marlboro, MD. John was a lifetime fisherman who loved being on the water. He loved computers, sports, especially the Washington Redskins and the Nationals. From a young age, he loved baseball, eventually receiving a scholarship offer from Georgetown University. He also enjoyed going to the beach, driving corvettes and he loved dogs.

Family invites friends to Lee Funeral Home Calvert, 8200 Jennifer Lane, Owings, MD 20736, on Monday, July 17 from 2 pm until start of Memorial Services at 4 pm. Inurnment will be private. Memorial contributions may be made to the F.O.P. #89, 2905 Largo Road, Upper Marlboro, MD 20772. Arrangements by Lee Funeral Home.