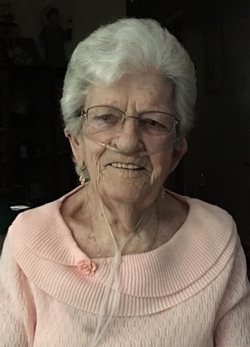 Edith May Vitale Harris, age 93, previously of North Beach, MD passed away June 17, 2017 at the home of her daughter where she had lived for the past several years. She was born November 7, 1923 in Washington, D.C. to Michael A. and Florence I. (Bailey) Vitale.

Her 17 year marriage to Temple Bladen ended in divorce, and she was later married for 43 years to Donald Harris who preceded her in death in 2006. They had lived in Calvert County for nine years, Reisterstown for two years, and Westminster for twelve years, and returned to Calvert County living in Drum Point and Chesapeake Ranch Estates. After Mr. Harris' death she lived in Port Republic with her son and daughter-in-law and with her daughter in Chesapeake Beach since 2011.

Mrs. Harris had 29 years of Federal employment, 4 years with State Government, and 4 years with the Calvert Independent newspaper. She was a former member of the North Beach V.F.D. Auxiliary and the American Legion Stallings-Williams Auxiliary Unit 206. She was a member of the Masonic S.O.O.B., Westminster Assembly # 245. In her leisure time Edith enjoyed dancing and surf fishing with her husband and family.

She was preceded in death by her parents, brothers Bernard and Ernest Vitale, sister Eleanor Woodring and her twin sister Grace Rose, and her son Melvin Bladen, Sr. She is survived by her daughters Connie Abner and Patricia Reynolds and her husband Steven, all of Chesapeake Beach, step-daughters Michelle Callaway and husband James and Gail Huey and husband Wayne, all of Delaware, a daughter-in-law Darlene Bladen, 12 grandchildren, 30 great-grandchildren, and 3 great-great-grandchildren. Arrangements by Rausch Funeral Home.