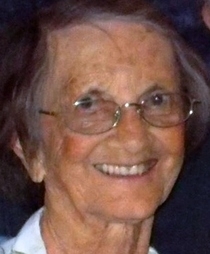 Julia Thomas, 86, of White Plains, MD passed away on June 6, 2017 at the University of MD Charles Regional Medical Center in La Plata, MD. Born in Lorain, OH on June 5, 1931 to the late Theodore Yazek and Rose Yazek, she is also preceded in death by five sisters.

Julia leaves behind her beloved husband of 66 years, Major Donald J. Thomas, USMC-Retired; sons, David M. Thomas (Diane) of Mechanicsville, MD, Robert J. Thomas (Julia) of Gastonia, NC; Scott A. Thomas (Wanda) of LaPlata, MD and Jeffrey D. Thomas (Goenuel) of San Diego, CA; daughter, Shirley J. Kugler (Larry) of Indian Head, MD; grandchildren, Dara Thomas, Dale Thomas, Samantha Thomas, Tierney Thomas, Raleigh Thomas, Julia Thomas, Selin Thomas, Crystal Thomas, Bruce Hazel, Amy Binger and Donnie Thomas; as well as numerous great-grandchildren.

Julia served in the U.S. Army Women's Corps from 1949-1951. She also worked at Malcolm Elementary School as a substitute teacher for many years. A homemaker, devoted wife and mother of five she was also very caring of others. Julia enjoyed traveling, dancing and spending time with her family.

A Funeral Mass will be held at 11AM on Saturday, June 10th at St. Catherine's McConchie, 7865 Port Tobacco Rd., Port Tobacco, MD. In lieu of flowers, donations may be made in Julia's memory to the University of MD Charles Regional Center ICU, 5 Garrett Ave., La Plata, MD 20646. Inurnment will be held at Arlington National Cemetery at a later date. Arrangements by Arehart-Echols Funeral Home.