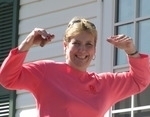 Debby Marie Smith "Pigeon" as she was fondly called by her husband was born January 13, 1955 in Washington, DC. Debby married her lifelong sweetheart Delmar Lee Smith on February 17, 1972. They lovingly referred to themselves as LeeMarie. They shared a life together in St. Mary's County for over 46 years.

Their marriage blessed them with two children, Delmar Smith(Dena) of OC, Maryland and Justin Smith of Hollywood, Md. Debby enjoyed her work at the bank until she retired. Taking the title as world's best Maw maw very seriously, Debby enjoyed her retirement years devoted to her grandchildren Brandon Smith, Bailey Smith, Hannah Smith, Logan Smith, Gracie Smith, Alyssa Bean, Laila Brooks, Vanessa Brooks among countless other adopted children and grandchildren.

Debby loved her children and grandchildren and reminded them of this daily. "Maw Maw loves her angels" is what she always told them. Along with spending time with her husband, children and countless grandchildren, Debby enjoyed spending time at her home away from home, the Dennis point campground. She spent many days driving her grandchildren around on the golf cart. Debby was a selfless person who enjoyed taking care of everyone, especially her grandchildren who held a special place in her heart. Debby took great care in making sure her family and friends knew they were loved very much by her and she told them so, often. Debby touched the lives of everyone she met and she never met a stranger. Debby enjoyed eating a good mess of hard crabs with her family in the summer, she especially loved the mustard.

In addition to her Husband, Children and Grandchildren Debby is survived by her daughter in heart, Jennifer Johnson Bean, Brothers Pete Hicks and Lonnie hicks, Mother in Law Pearl Smith, Sister in Laws Debbie Anne(Curtis) Daniel, Barbara Pollard, Patty (Chester McMahan), Melissa Smith Ritter and many nieces and nephews. She is preceded in death by her Father Jack Hicks and Father in Law, Delmar Smith Sr. Honorary Pallbearers will be her Grandchildren. A Funeral Service will be held on Saturday, June 3, 2017 at 11:00 AM in Mattingley-Gardiner Funeral Home, Leonardtown, MD. Interment will be private. Arrangements by Mattingley-Gardiner Funeral Home.