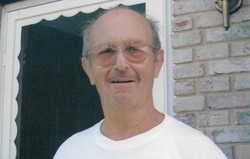 Elmer Connor Jr., was born on February 9, 1930 to the late Elmer Connor Sr. and Lillie Mae Connor (nee Counts) in beautiful Rocky Mount, NC. Elmer enlisted in the U.S. Navy as a young man and proudly served for over 20 years including in the Korean conflict. He enjoyed fishing, gardening, furniture making, and was known for being able to build or fix anything.

Elmer passed away peacefully at Prince George's General Hospital on May 7, 2017. He will be remembered as a strong and loving father. Elmer Connor, Jr. is survived by children, Tracy Connor (Lisa Connor) of KY and Elmer Connor, 3rd (Jay) (Paula Elizabeth Connor) of Millersville, MD, Gail Ann Connor Rochester (Lewis S Rochester) of California, MD, Angelina M. Connor Chapman (Gary Chapman) of Catonsville, MD, Lynda Leigh Connor Lopez (Al Lopez) of Mt. Airy, MD and his sister, Barbara Hill of Lexington Park, MD.

He is also survived by 11 grandchildren including Samantha Connor, Taylor Connor, Joshua Connor, Michael Justin Chapman, Orion Daniel Connor, David Tracy Connor, Stefanie Rose Connor, Amy Lynne Connor, OraMae Rochester Sikorski of Leonardtown, MD, Gail Michelle Tefft of Great Mills, MD, Sherry Nicole Welch of Callaway, MD, and 8 Great Grandchildren including Mark S. Marshall, Jr., Matthew C Marshall, Luke S. Marshall, Nicole Ann Welch, Gavin Michael Chapman, Avery Emi Chapman, Aaron Micah Connor, and Addison MacKenzie Connor.

He is also survived by his Niece Cynthia Poisson Day, and Great Nieces Christy Lynn Harris of Hollywood, MD and Wendy Jo Day. In addition to his parents he is preceded in death by his wife, Lois V. Connor (nee Coates) and his son, Gary P. Connor, his brother, Randy Connor, his sister, Elsie Mae Connor Poisson, his great nephew, Jimmy Cougar (JC), and his nephew, Michael Poisson.

The family received friends at Kirkley Ruddick Funeral Home in Glen Burnie, MD on Saturday May 13th. Burial took place at Glenhaven Memorial Gardens also in Glen Burnie, MD where Elmer was laid to rest with his predeceased wife Lois V. Connor.