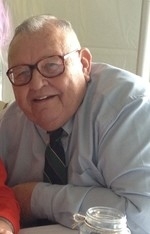 George Anthony Thomas Donely passed away on April 28, 2017 at MedStar Washington Hospital Center. George was born in New Orleans on August 14, 1934 the son of George A.T. Donely and Valerie C. Burmaster. George is survived by his wife, Lisa Young Donely, his daughter, Valerie J.Y. Donely, two nieces, a nephew and their families as well as by numerous other friends and relatives.

He graduated from Williams College and earned a Master's Degree from Columbia University. He worked briefly at Lionel D. Edie in New York, spent eight years overseas in the U.S. Foreign Service and twenty years as an economist at The International Monetary Fund. After retiring from the IMF, George, his wife Lisa, and their infant daughter moved to the family farm, St. Richard's Manor in St. Mary's County. He worked for Volunteer America and eventually became director of the Retired Service Volunteer Program at the Department of Aging.

George was also a member of the Metropolitan Club in Washington D.C., the Round Table Club of New Orleans and the St. Mary's River Yacht Club. He was on the board of several charitable organizations, one being The Friends of Music at the Smithsonian. He is memorialized in Who's Who in America. George had a love of travel, spoke three languages fluently, and enjoyed opera, gardening, and swimming.

A viewing will be held at Our Lady Star of the Sea Church on May 5th from 10:00am to 11:00am, mass to follow with Msgr. Michael Wilson officiating. He will be interred in the mausoleum at The Resurrection Cemetery in Clinton in a private ceremony. In lieu of flowers, donations may be made to The Friends of Music at the Smithsonian. Arrangements by Mattingley-Gardiner Funeral Home.