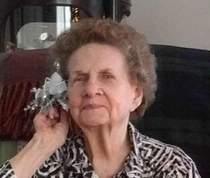 Shirley Griffin Hill, 90, of Owings, MD passed away in Owings on April 20, 2017. Shirley was born in Baltimore, MD on February 10, 1927 to the late Francis Griffin and Beatrice Oden. She graduated from the Shrine of the Sacred Heart Catholic High School. Shirley married Robert Lee Hill, Jr. and the couple moved to their home in Owings, where Shirley had lived since 1976.

Shirley had been employed as a hairstylist, but, when her children started arriving, she became a home maker. She enjoyed arts and crafts, crocheting and watching daytime television shows. She was a member of Jesus the Good Shepherd Catholic Church in Owings.

Shirley is survived by her son, Robert Hill, III and his wife, Lisa, of Owings; daughters, Pamela Hill Smith and her husband, Ralph, of Owings and Leslie Hill and her partner, Isobel Montgomery of Magnolia, DE; five grandchildren, Ashley Hill, Sarah Carbonneau and her husband, Brandon, Robert Hill, IV and his wife, Katera, Ralph Smith, Jr. and his wife, Corey and Gerald Smith and his wife, Jennifer and four great-grandchildren, Brian Smith, Connor Smith, Jayden Hill and Rylen Smith. Shirley's husband, Robert Lee Hill, Jr., passed away in July of 2013.

In lieu of flowers, memorial contributions may be made to the American Heart Association, 7272 Greenville Ave., Dallas, TX 75231 or online at heart.org or to Calvert Hospice, PO Box 838, Prince Frederick, MD 20678 or online at calverthospice.org. Arrangements by Raymond Wood Funeral Home.