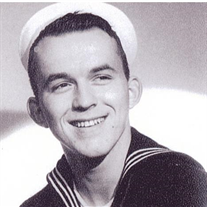 Alvin Everett "Pops" Morris of Waldorf, Maryland, died on Thursday, April 13, 2017 at Washington Hospital Center in Washington, DC. He was 73 years old. Born on June 11, 1943 in Annapolis, Alvin was the son of the late Mildred Mundell Morris and Allen Thomas Morris.

He served in the U. S. Navy during Vietnam until he was Honorably Discharged in 1970. Alvin was a diesel mechanic and worked in the construction field. He was a member of the V.F.W. in Waldorf and the American Legion in Hughesville. Alvin enjoyed cooking out on the grill, watching NASCAR and his favorite driver, Dale Earnhart Sr., rooting for the Dallas Cowboys and spending time with his family and friends. He was nicknamed "the unofficial Mayor of Waldorf".

In addition to his parents, Alvin was preceded in death by his brother Clyde Wayne Morris; granddaughter Desire'. He is survived by his wife Ethyleen "Eck" Morris; children Carmela Braxton, Bernie Klauss and his wife Debbie Racey, Lynn Aldridge and her husband Ricky, Kimi Ann Morris and her fiancée Tony Jacobs, Lenny Morris and his wife Ronda, Randy Morris; grandchildren Kevin, C. J., Eric, R. J., Dillion, Desire', Savannah, Stephen, Dawson, Dakota, Nick, and Allie; brother Gene Morris and his wife Jeannie; sister-in-law Faye Morris.

Visitation on Saturday, April 22, 2017 from 11:00 AM to 1:00 PM with Services at 1:00 PM at the Raymond Funeral Service, P.A. 5635 Washington Avenue, La Plata, Maryland 20646. A private interment will be held at a later date. Arrangements by Raymond Funeral Service.