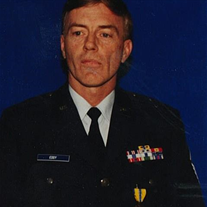 David Michael Eddy, 61, of La Plata, Maryland died February 25, 2017 at Charles Regional Medical Center in La Plata, Maryland. He was the son of John E. Eddy, Jr. and Linda Jane Morris Eddy. He is survived by his wife, Nenghui Eddy; his son, Brad M. Eddy; his daughters, Liz L. Eddy, Rachel J. Eddy, and Angela C. Eddy; his brother, Jeffrey Steven Eddy; and his sister, Pamela Jo Howard.

David was a retired E-7 with the United States Air Force, having served 24 years. He enjoyed fishing trips to his home state of West Virginia with family and friends, being at home, taking care of family, and raising his youngest daughter.

Friends received on Monday, March 6, 2017 from 9:30AM until time of Funeral Service at 11AM at the New Life Wesleyan Church (little chapel), 9690 Shepherd's Creek Place, La Plata, Maryland 20646. Interment will follow in the church cemetery with United States Air Force Honors. Memorials in David's name are asked to D.A.V. (Disabled American Veterans). Arrangements by Raymond Funeral Service.