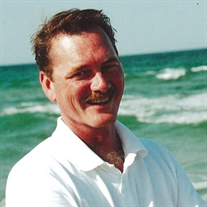 Dennis Todd Riggs died unexpectedly on January 12, 2017 in La Plata, MD at the age of 56.

Dennis is survived by his wife, Joyce Conlon Riggs; children, Jennifer Riggs Driban and husband Nick of Baltimore, MD and Allison (Riggs) Madden and husband Daniel of New Orleans, LA; one grandchild, Caroline Driban; parents, Georganna Bender of Longwood, FL, and Clarence Riggs of Winter Park, FL; grandmother, Margaret Hawkins; and siblings, Mindy Rhoades and Becky Forrester. Dennis is preceded in death by his maternal grandfather, Lloyd Hawkins, and his paternal grandparents, Mable and Chester Riggs.

Dennis was born on April 12, 1960 in Terra Haute, IN. He graduated from Lake Brantley HS in Longwood, FL in 1978. He attended Florida Technological University (now University of Central Florida) before joining the United States Air Force, where he served on active duty for 4 years, followed by 6 years in the DC Air National Guard. He married Joyce Conlon, his high school sweetheart in 1982. After moving to Waldorf, Dennis worked as a Civil Engineer for Lorenzi, Dodds, & Gunnill, DH Stefens, and most recently Ben Dyer.

Dennis was a member of the New Life Church in La Plata, and before that St. Joseph's Church in Pomfret where he volunteered in many capacities. He was also a member of the Knights of Columbus, Pomfret Chapter and the Rotary Club of La Plata. Dennis was an accomplished cook and enjoyed using his talents for the benefit of others in the community through volunteering at the Wayside Food Bank and numerous other soup kitchens in Charles County, MD. He served on the building committees for St Joseph's Church and Archbishop Neale School after the La Plata tornado. He also served as a Eucharistic Minister at St Joseph's and as a youth advisor at St. Philip's church in Camp Springs.

He was a devoted husband and generous, dedicated father who coached soccer, volunteered at dance recitals, and became an honorary member of the Girl Scouts for his daughters. Dennis loved the water and enjoyed sailing, surfing, diving, water skiing, and flying his kite at the beach. His favorite place in the world was the four-wheel drive section of the Outer Banks, NC. His other passions included camping, woodworking, tennis, classic rock, and driving his jeep with the top down.

Dennis never met a stranger. He treated everyone as a friend, generously gave of his time and talents, and never hesitated to help a person in need. He was fun-loving and charismatic. He had a big heart and was dedicated to his family and friends who meant everything to him.

A memorial service is scheduled for Thursday, January 19, 2017 at 11:00 AM at New Life Church in La Plata, with a reception immediately following. Pastors Chris Wagnon and Aaron Rummage will officiate the ceremony. All are invited and welcome to attend and celebrate Dennis' life.

Contributions in memory of Dennis may be made to the Joseph C. Ferrante Memorial Scholarship Fund at http://www.josephferrantefoundation.org/donate-now/ or sent to Joseph C. Ferrante Memorial Scholarship Fund, Golden Beach Patuxent Knolls Civic Association, P.O. Box 106, Charlotte Hall, MD 20622. Arrangements by Raymond Funeral Service.