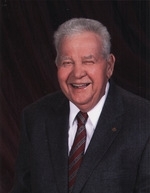 Thomas "Tucker" McGuire Lacey Jr., 81, of Bushwood, MD passed away on January 8, 2017 at MedStar St. Mary's Hospital, Leonardtown, Maryland. Born on June 19, 1935 in Leonardtown, Maryland he was the son of the late Thomas McGuire and Margaret Mary Lacey. Tucker was the loving husband of Joan Welty Lacey whom he married on March 6, 1954, at Holy Angles Church, Avenue, Maryland. Together they celebrated 62 wonderful years of marriage.

In addition to his wife Joan, he is survived by his loving daughter, Karen Ann Lacey Fisher (David) and his two grandsons, Thomas Britton Fisher and Andrew David Fisher. He called them "his Boys" and they were his pride and joy. He is also survived by his brother and best friend Richard Lacey, his loving sister Alice Mirth (Don), his brother-in-law Kennedy Abell, and many special nieces and nephews. He is predeceased by his brother and sister's, Bill Lacey, Mary Lou Smith, Ann Abell, Kathleen Irene Lacey and Rita Wathen.

Tucker served with the U. S. Army from 958 to 1960 and was stationed in Cleveland, Ohio. Tucker's career in the auto parts industry started in 1954. He began working at Ken Dixon Chevrolet-Buick-Honda in January 1962. He worked for over 38 years as the Parts Manager. Throughout the years he won many General Motors awards which included trips. Hawaii was one that they especially enjoyed. He retired in June 2000. Tucker was a lifetime member of the 7th District Optimist Club. He joined the club in 1970 and held many offices throughout the years (President 1976-77). He loved the fellowship of the club and enjoyed volunteering at their events.

He made many great friends over the years. One of his favorite events was the Shop with the Cop Program. He lived by the Optimist Creed. He enjoyed his coffee with his friends at Quade's Store every Monday and Thursday mornings. He looked forward to card playing time on Tuesday and Saturdays with his brother and friends. Saturday's always included lunch at Quade's Store with his best friend and brother Richard. His smile and laughter will be dearly missed by all his family and friends, especially by his wife Joan. Help us keep his memory by sharing your favorite Tucker story!

In lieu of flowers, contributions can be made to the 7th District Optimist Club, P.O. Box 53, Bushwood, MD 20618, and A Community That Shares (ACTS) P.O. Box 54, Bushwood, MD 20618. Visitation will be from 5:00 PM to 8:00 PM on Thursday, January 12, 2017, with prayers recited at 7:00 PM at Mattingley-Gardiner Funeral Home, Leonardtown, MD.

A Mass of Christian Burial will be officiated by Father Anthony Lickteig at 10:00 AM on Friday, January 13, 2017, at Sacred Heart Catholic Church in Bushwood, MD. Interment will follow at Sacred Heart Cemetery, Bushwood, Maryland. Pallbearers will be: George Quade, Thomas Britton Fisher, Andrew David Fisher, Rick Lacey, David Smith and Terri Mattingly Scherer. Honorary Pallbearers will be the 7th. District Optimist Club. Arrangements provided by the Mattingley-Gardiner Funeral Home, P.A. Leonardtown, MD.