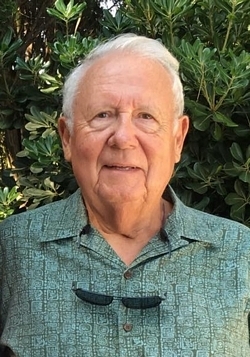 Peter R. Worch, PhD, Colonel, USAF Retired, 81, passed away on 1/6/2017. He was a native of Binghamton, New York and recently a resident of Port Saint Lucie, Florida spending summers in Solomons, Maryland. Peter Worch is predeceased by his wife of 33 years, Jeanette (Foland) whom he loved dearly and missed terribly every day.

He is survived by two wonderful children, Cynthia (Dave Smalley) and Peter Worch Jr (Wanda), six grandchildren: Raebecca, Gregory, and Benjamin Smalley; and, Rudy, Matthew, and Nicholas Worch; and three great-grandchildren: Hunter, Pilot, and Rowan. He enjoyed his children, grand-children, and great-grandchildren immensely. He was grateful for the care his family gave to him throughout his life.

Peter Worch lifelong learner with a PhD in electrical engineering. He served in the United States Air Force for 24 years in research and development. Dr. Peter Worch then worked in the defense industry developing communications and intelligence systems. He pioneered the development of advanced manned and unmanned aircraft systems including early stealth aircraft technology. He served on the Air Force Scientific Advisory Board for 24 years where he chaired major studies in communications and aviation. Up until his death, he was an advanced design consultant to the military combat aircraft industry.

Dr. Worch had a wide range of interests. He was an experienced pilot with commercial, multi-engine and instrument ratings, an accomplished maker of half-hull boat models, and enjoyed fishing, hunting, sailing, boating, biking, wood-working, and electronics.

A Mass of Christian Burial will be celebrated on Tuesday, January 10th at 11:00 am at Our Lady Star of the Sea Historic Catholic Church, 90 Alexander Lane, Solomons, MD with Msgr. Michael Wilson officiating. Dr. Worch will be buried in Vestal Hills Memorial Park, Vestal, NY. Friends are encouraged to donate to American Cancer Society in lieu of flowers. Arrangements by Rausch Funeral Home.