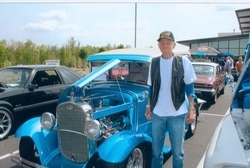 James "Cowboy" William Vendelboe, 78, of Waldorf, MD passed away on January 2, 2017 at Charlotte Hall Veterans Home in Charlotte Hall MD. James was born in St. Joseph, MO on June 4, 1938 to the late William Carl Vendelboe and the late Addie Mae Fisher. James was a member of VFW, American Legion and Elks. He enjoyed Budweiser, Pall Malls, grilling, yard work, country music, bowling, pool and darts.

James is survived by his daughters, Loretta Lynn Oslund (Robert Gregory), Darlene Mae Vendelboe; brother, Donald Vendelboe; grandchildren, Rebecca Mae Oslund and Geni Ann Oslund and former spouse Brunhilde.

Family will receive friends for James' Memorial Life Celebration Gathering on Thursday, January 12, 2017 from 5-7pm with a Memorial Service at 7pm at Brinsfield-Echols Funeral Home, 30195 Three Notch Road, Charlotte Hall, MD 20622. Interment will be private. Arrangements by Brinsfield-Echols Funeral Home.