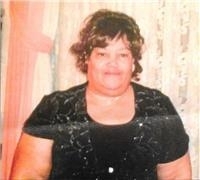 Janet Teresa Hawkins was born on March 26, 1944 in Washington, D.C. to the late Barbara Waters and the late Rappa Thomas Moore, Sr. She departed this life peacefully on December 15, 2016. She was joined in holy matrimony on July 31, 1965 to James Patrick Hawkins; together they raised six beautiful children.

Janet enjoyed spending time with family, caring for children, working crossword puzzles, sewing, listening to gospel music and collecting porcelain dolls, to name a few. She was known for her great sense of humor, her positive outlook on everything and her delicious potato salad, among other things.

She leaves to cherish her sweet memories her beloved husband, James Hawkins; her five daughters, Velvet Hawkins, Terri Hawkins, Cindy Joseph, Linda Morgan and Gloria June; her son, Aaron Michael Hawkins; her twin sister, Janice Perkins; two brothers, Myron Richardson and Gregory Moore, seven grandchildren, one great granddaughter, her two sons-in-law, Quintin Joseph and Joe June; daughter-in-law, Rachel Hawkins and a host of nephews, friends, and relatives.

Family and friends will unite on Friday, December 23, 2016 for visitation at 10 am until Mass of Christian Burial at 11 am at St. John Francis Regis Catholic Church, 43950 Saint Johns Road, Hollywood, MD. Interment to follow at the church cemetery. Arrangements by Briscoe-Tonic Funeral Home, P.A.