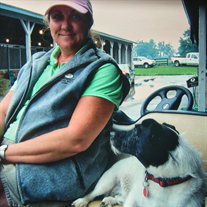 Patricia A. "Pat" Kriemelmeyer, 60 of La Plata, Maryland died December 11, 2016. Pat was a Doctor of Veterinary Medicine, having graduated from the Tuskeegee Institute in 1984. Founder/owner of Takoma Park Animal Clinic in 1985 and worked many years as a Maryland State Veterinarian with race horses. She was also the President of the Maryland Saddle Association, a member of the Maryland Veterinary Association, and a member of the Kiwanis Club of Waldorf.

She was the daughter of Harry Kriemelmeyer, Jr. and Mildred Finley Kriemelmeyer. She is also survived by her daughter, Kari Renahan; her brothers, Karl W. and Eric H. Kriemelmeyer. Also survived by many cousins, friends, and colleagues.

Friends received on Saturday, December 17, 2016 from 2:30PM until time of Memorial Service at 4PM at Raymond Funeral Chapel, 5635 Washington Avenue, La Plata, Maryland 20646.

Remembrance for Pat K on Sunday, December 18, 2016 from 2-5PM at the College Park Marriott Hotel & Conference Center "Chasen Family Room", 3501 University Boulevard East, Hyattsville/Adelphi, MD 20783. Light and bright colors and cheerful memories, please.

Flowers and photos will be displayed. A podium and mic will be provided to share memories. Various opportunities to write and share thoughts and memories of Patricia Anne Kriemelmeyer, DVM. All who knew Dr. K professionally or privately are invited to come. Light fare and beverages will be provided.

Memorials in Pat's name to Feel Your Boobies Foundation "Pink Out Loud Party" www.feelyourboobies.com. Arrangements by Raymond Funeral Service.