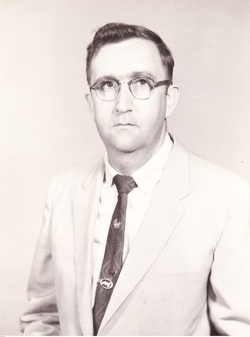 Beloved husband and father, James (Jim) Daniel Trent, Jr., 90, of Lexington Park, Maryland died peacefully on December 1, 2016, at MedStar Washington Hospital Center, surrounded by family. Born May 24, 1926 in Seat Pleasant, MD he was preceded in death by his parents, James Daniel Trent, Sr., and Lanta Mae Hastings Trent, as well as by two sisters, Maureen LeCato and Effie Lou Willson.

A devout Catholic, Jim had been a parishioner of Immaculate Heart of Mary Church in Lexington Park since 1950, and served as an Extraordinary Minister of Holy Communion there, as well as teaching marriage preparation and RCIA classes. Jim joined the Knights of Columbus Council 9968 and became a Third-Degree Knight.

Jim joined Patuxent River Naval Air Station in 1950 and enjoyed a three-decade career before retiring in 1984 as a Supervisory Aerospace Engineer at what was then known as the Computer Sciences Directorate. From there, he spent several years at RAIL Company before retiring fully in 1994 to enjoy the two main passions of his life, God and family.

He was also an active member of the community and participated in many groups and organizations, including the Friends of the Library, the Calvert Marine Museum Canoe Club, the Ford Model A Club, Alhambra, Toastmasters, the Chesapeake Beach Railroad Museum, and others.

Jim is survived by his wife of 59 years, Lois Anne (Sperka); siblings Marjorie Lauver, Phillip Trent, and Suzanne Corley (Carl); and ten children: Anne Russell (Doug), Laura Stein (David), Marian Wheeler (Robert), James D. Trent III (Cecilia), Jonathan Trent (Christine), Christopher Trent (Mary), Elizabeth Trent (Dawn Turton), Joseph Trent (Christine), Constance Trent, and Paul Trent. He is also survived by 17 grandchildren and 5 great-grandchildren.

Visitation will be held on Friday, December 9, 2016, from 5:00-8:00 pm, with prayers at 7:00 pm, at Immaculate Heart of Mary Catholic Church in Lexington Park. The funeral and interment will follow on Saturday, December 10, 2016, 11:00 am at the church. Jim will be carried lovingly to his final resting place by his sons, James D. Trent III, Jonathan Trent, Christopher Trent, Joseph Trent, and Paul Trent; and grandson Nicholas Wheeler.

In lieu of flowers, donations may be made to Immaculate Heart of Mary Catholic Church, 22375 Three Notch Road, Lexington Park, MD 20653. Please indicate "In memory of Jim Trent" in the memo line. Arrangements by the Brinsfield Funeral Home, P.A., Leonardtown, Maryland.