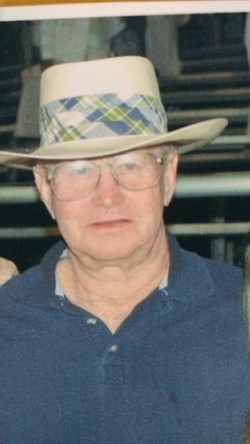 Wallace Clarke "Whitey" Coflin, 82, of Hollywood, MD passed away on 18 November 2016. Whitey was born in 1934 in Warrenton, Virginia to the late James and Gertrude "Gertie" Coflin. He was happily married to his wife, Pamela for 23 years.

Whitey Graduated from George Washington High School in 1952. He served our country as an Air Traffic Controller for the U.S. Navy for 30 years (active 24 and reserved 6) and fully retired on 1 January 1984. Several of his duty stations were Grosse Point, MI, Roosevelt Roads, Puerto Rico and finally settled at NAS Patuxent River, MD. He was deployed twice on Aircraft Carriers, first on the USS Intrepid (CV-11) during the Vietnam War and then the USS John F. Kennedy (CV-67).

After Whitey left the Navy, he continued with his previous love – horses. He went to school to become a farrier and blacksmith. He furthered his love of horses, which he shared with his wife Pam and his kids Scott and Blythe, by being a part of the De La Brooke Foxhounds as both a member and then as professional Huntsman for six years. In the past few years, he enjoyed practicing Tai Chi and volunteering at the Garvey Senior Activity Center. He also was an avid bird watcher.

In addition to his wife, Whitey is survived by his children from previous marriage to Susan, Daughters: Vicki Thompson and Blythe Thomas; and son, Scott Coflin (Monika). His 5 grandchildren: Lizbeth, Rhett, Amber, Raina and Sierra and 6 great-grandchildren: Kameron, Stephanie, Ethan, Gracie, Jaxson and Aviana. He is further survived by his much-loved sister Harriet Coflin Dudley (Francis); nieces, Kimberly (Jon) and Kelly (Trey). As well as his beloved feline and canine babies.

The family will welcome friends and family for a Life Celebration on Tuesday, November 22, 2016 from 5 to 7 p.m. at Brinsfield Funeral Home, P.A., 22955 Hollywood Road, Leonardtown, MD 20650. A funeral service will be on Wednesday, November 23, 2016 at 10 a.m. in the Brinsfield Funeral Home Chapel. Interment will follow at Bethel Cemetery, 1300 Wilkes Street, Alexandria, VA 22314.

In lieu of flowers, the family requests that donations be made to Garvey Senior Activity Center, 41780 Baldridge St., Leonardtown, MD 20650 or to the Hollywood Rescue Squad, 23469 Rescue Lane, Hollywood, MD 20636. Arrangements made by the Brinsfield Funeral Home, P.A., Leonardtown, MD.