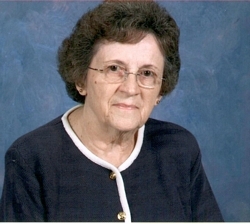 Suzanne P. Cibulay, 83, of Solomons, MD passed away on November 17, 2016 at her residence. Born January 19, 1933 in Calvert County, MD, she was the daughter of the late Norman H. and Reba G. Pardoe.

Suzanne was educated and graduated from the Calvert County public schools in 1950. Upon graduation, she moved to Washington, DC and worked for the C&P Telephone Company. In 1956 she moved home and worked for the Maryland National Bank. Suzanne retired as Assistant Manger at the Bank of America in Lusby, MD. In 1959 she married Ronald Cibulay. Ronnie and Suzanne were married for fifty three years. She was a hard worker and loved her family dearly, especially her nephews and niece.

Suzanne is survived by her sister, Norma Lee Buckler (George), nephews, Stanley (Nancy), and Bradley (Joan), niece Jackie (Gary), grand nephews, Christopher (Charity) and Matthew, great grand nieces, Julie, and Katie, and great grand nephew David. Suzanne was preceded in death by her parents, Reba G. and Norman H. Pardoe and her husband, Ronald Cibulay.

Family will receive friends on Friday, November 25, 2016 from 10:00 a.m. until 11:00 a.m. with a Funeral Service to follow at 11:00 a.m. at Rausch Funeral Home, P.A., 20 American Lane, Lusby, MD 20657. Interment will follow in Middleham Chapel Cemetery, 10210 H.G. Trueman Road, Lusby, MD 20657.

Serving as pallbearers will be Leroy Elliott, Wayne Pardoe, Donald Dowell, David Pardoe, Christopher Buckler and Matthew Buckler. In lieu of flowers, memorial contributions may be made to Middleham Chapel, 10210 H.G. Trueman Road, Lusby, MD 20657. Arrangements by Rausch Funeral Home.