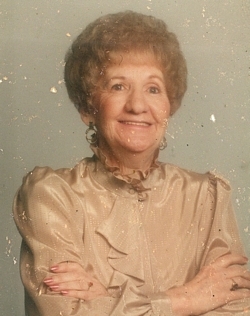 Geraldine Joan McGowan, 95, of Huntingtown passed away November 10, 2016 at Calvert County Nursing Center. She was born July 27, 1921 in Moosic, PA to Adrian and Kathryn F. (Burke) Stalbird. Geraldine was raised in Moosic and graduated from Moosic High School.

She married James Francis McGowan and they made their home in Moosic until moving to Washington, D.C. in 1952. Geraldine was primarily a homemaker until moving to D.C. where she worked as a long distance operator, and later a plant assigner with C&P Telephone Company until retiring at age 62 after 30 years of service.

In her leisure time Geraldine loved dancing and she was a member of the women's auxiliary at VFW Post 9619 in Morningside and a member of the Temple Hills Elks Lodge.

Geraldine was preceded in death by her husband James Francis McGowan. She is survived by her son James F. McGowan and his wife Laura of Huntingtown, grandson Christopher McGowan of Huntingtown and great-granddaughters Violet and Iris. She is also survived by many nieces and nephews. Arrangements by Rausch Funeral Home.