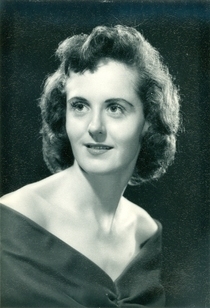 Patricia Carpenter Winters, 83, of Nanjemoy, MD passed away on November 10, 2016 at her home surrounded by her family. Born on February 25, 1933 in Long Beach, CA to the late Lieutenant Truman E. Carpenter, USN and the late Margurette Hyde Carpenter, Patricia is survived by her son, Michael A. Winters (Robert Stokes); and sister, Sally Ann Holte (Hartley Holte).

Patricia graduated from Towson University. She was employed as an Addictions Counselor for the Calvert Co. Government for many years and later became Director of The Jude House.

A Celebration of Patricia's Life will be held on November 19, 2016 from 2-4PM at Arehart-Echols Funeral Home (211 St. Mary's Ave., La Plata, MD). Private interment will be held at a later date. In lieu of flowers, donations can be made in Patricia's memory to the American Red Cross (PO Box 37839, Boone, IA 50037-0089) or to the ASPCA (PO Box 96929, Washington, DC 20090-6929). Arrangements by Arehart-Echols Funeral Home.