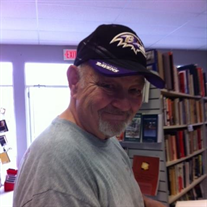 Edward George "Ed" Clay, of Waldorf, Maryland died on Wednesday, November 2, 2016 at Bridgepoint Hospital in Washington, DC. He was 71 years old. Born on August 4, 1945 in Baltimore, MD, he was the son of the late Mildred Roehner Clay and the late Crawford Montgomery Clay. Ed served in the Maryland National Guard for 17 years. He also worked for A. T. & T. as a sales executive for many years before retiring.

Ed was a member of the American Legion Post 82 in La Plata, the St. Andrews Society of Baltimore and the Pinefield Civic Association of Waldorf where he served as Vice President Emeritus. He was of the Lutheran faith and a member of Peace Lutheran Church in Waldorf. Ed was very proud of Scottish history and would often attend events teaching of the Celtic rites.

In addition to his parents, Ed was preceded in death by one brother. He is survived by his wife Paulette Clay; his sons Christopher G. Clay and his wife Michelle, Eric Todd Clay and his wife Aubree; his grandchildren Micah Dade and Alexis Clay; his dog and faith companion Skipper.

A memorial service will be held on Saturday, November 5, 2016 beginning at 1PM at Peace Lutheran Church, 401 East Smallwood Drive, Waldorf, MD 20602 with the Reverend Craig Endicott officiating. A private interment will be held at a later date. In lieu of flowers, memorial contributions may be made to Humane Society of Charles County, PO Box 1015, Waldorf, MD 20604 or Peace Lutheran Church, 401 East Smallwood Drive, Waldorf, MD 20602. Arrangements by Raymond Funeral Service.