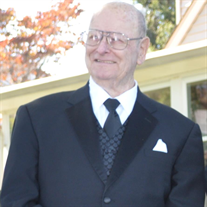 Harold F. "Skip" Landon Sr., 79, of Dunkirk, MD on Tuesday November 1, 2016. Born in Washington, DC he was a son of the late Harold B. and Zula G. (Tolles) Landon. He was married to Kathryn M. Landon.

His last job was as a truck driver. He loved to go to yard sales as he was an avid collector,enjoyed watching TV and cheering for the Washington Redskins, seeing and experiencing wildlife, and spending time with his family.

Along with his wife he is survived by four children, Harold F. Landon Jr., Mary Helen Linebarier (John), Daniel L. Landon (Jodi), and Brian L. Landon (Julie), a daughter-in-law Katie, nine grandchildren, nine great-grandchildren, and a brother Myron Landon. He was preceded in death by a son George R. Landon in 2012. Arrangements by Lee Funeral Home.