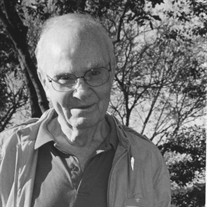 Lynn Julius Hampton, 97, of White Plains, Maryland died October 27, 2016.

Lynn was a United Methodist Minister for 32 years and a member of Good Shepherd United Methodist Church in Waldorf, Maryland. In his earlier years, he was a coal miner and a member of a boxing team that won a West Virginia State Featherweight Championship. He also enjoyed reading.

He was the son of Thomas Hampton and Eva Cook Hampton. In addition to his parents, he was predeceased by his wife of 68 years, Sybil Pennington Hampton; his four brothers; and his three sisters.

He is survived by his daughters, Phyllis Law and Sandra Fehl and husband Bob Johnston; his grandchildren, Dave and Ron Law, Suzanne Donahue, and Amy Burch; and his great-grandchildren, Lauren, Eric, Thomas, Shannon, Ada, David, Kimmie, Charlie, Colby, Savannah, Robert, Haley, Adam, and Madyson.

Committal Service on Monday, October 31, 2016 at 10AM at Trinity Memorial Gardens, 3221 Mattawoman-Beantown Road, Waldorf, Maryland 20601, officiated by Reverend Laurie Gates Ward. Memorials are asked to Good Shepherd United Methodist Church, 305 East Smallwood Drive, Waldorf, Maryland 20602. Arrangements by Raymond Funeral Service.