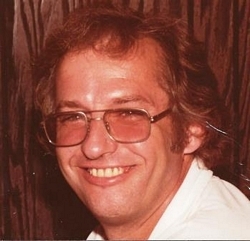 Richard Brett Maines Sr., 70, of Lusby, MD previously Crofton and Oxon Hill, MD died October 19, 2016 at Burnett-Calvert Hospice House. Ever the perfectionist, he denied death the first time and then spent the next three years trying to get it right. Richard was born in Washington, DC on December 26, 1945 and was married to Joyce Jane Herklotz on March 15, 1968. They were married 48 years.

Richard was a Journeyman Electrician for I.B.E.W #26, proudly mentoring countless apprentices over the course of his career. He was quite fond of seafood, and spending time with his family and friends. He was always the last one to leave the party. He was a devoted Husband, Father, Uncle, Brother and Friend to so many. He was proud to call himself a diehard Redskins fan and only mildly displeased that his son loved the Cowboys. The words of Mat Johnson best describe his relationship with his loving daughter: "A man's daughter is his heart. Just with feet, walking out in the world."

In addition to numerous nieces and nephews whom he loved dearly, Richard is survived by his wife, Joyce Maines; his children, Richard Maines, Jr. and Carla Maines; grandchildren, Sydney Maines and Jackson Maines; his siblings, David Henry Maines (Janice), Robert James Maines, Judith Mae Voorhies (Frank), Joseph Nathaniel Maines, Clara Cylinda Meinhardt (Walter), and Mary Faye Melhfelt (Ricky). Richard was preceded in death by his parents, Merle David Maines and Mary Elizabeth Maines; and his siblings, Marilyn Jane Delgado, John Thomas Maines, Merle Dean Maines and Ronald Cleveland Maines.

A visitation will be held at Rausch Funeral Home, 4405 Broomes Island Road, Port Republic, MD 20676 on Friday, October 21, 2016 from the hours of 2:00pm-4:00pm and 6:00pm-8:00pm. The funeral service will be held at 11:00am on Saturday, October 22, 2016 at Rausch Funeral Home, Port Republic, MD. Chris Bryan of Kneeling Point Wesleyan Church will be officiating.

In lieu of flowers memorial donations may be given to Calvert Hospice, P.O. Box 838, Prince Frederick, MD 20678 or Pets with Disabilities, 635 Clay Hammond Road, Prince Frederick, MD 20678. In addition to a donation, Richard asks that you do an unsolicited act of kindness for a complete stranger in his name. Arrangements by Rausch Funeral Home.