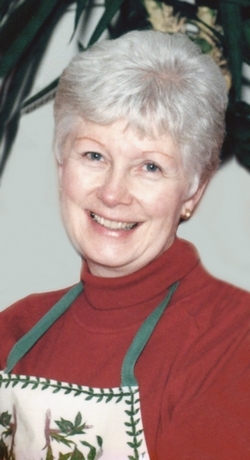 Gail Miriam Cooney of Solomons, MD passed away following a long illness on October 16, 2016 surrounded by her loving and devoted family. She was predeceased by her parents, Henry Andrews and Isabelle Howe Patch and her brother, John.

Gail was born in Berkshire, NY on February 11, 1941. She graduated from Newark Valley High School, Newark Valley, NY in 1959. Her childhood years were nurtured by a large, close-knit extended family. "Family by birth, friends by choice" was the mantra of the cousins who forged lifelong bonds of friendship.

Gail received her Bachelor of Music Education degree, Summa cum Laude with concentrations in organ and piano from Syracuse University in 1963. In addition she completed graduate courses in piano pedagogy at George Washington University in Washington, D.C.

While at Syracuse she caught the eye of Matthew T. Cooney with her gentle, sweet nature. On September 14, 1963 Gail married the love of her life, Matthew, at Sage Chapel, Cornell University in Ithaca, NY. Gail was a deeply devoted wife and championed Matt in his journalism, radio, and communications career from Boston to Washington to their beloved Upstate New York.

Gail maintained a professional piano studio for over 40 years as a teacher in Northern VA, Wilmington DE, Norwich and Ithaca, NY. She was a nationally certified member of Music Teachers National Organization, and a member of the National Guild of Piano Teachers, the National Federation of Music Clubs and the American Guild of Organists. As a prominent member of the Monday Evening Musical Club of Norwich, Gail diligently organized and performed in fundraising recitals including the "40 Nimble Fingers" to support collegiate music scholarships for local high school students. Gail was loved and respected by hundreds of piano students, many of whom continued their studies professionally. In addition to her teaching career, Gail was a highly respected professional church organist. For 25 years she was the organist at The United Church of Christ First Congregational Church in Norwich, New York.

Gail's greatest joy was raising three daughters. She was a selfless and loving mother who always nurtured, encouraged and guided her children until the very end of her life. She also loved tending her exquisite flower gardens, traveling the country with Matt, and visiting their ten grandchildren. Gail was a member of St. Catherine of Siena Catholic Church, Ithaca, NY, St. Paul's Roman Catholic Church, Norwich, NY, and most recently Our Lady Star of the Sea Catholic Church, Solomons, MD.

She is survived by her husband, Matthew; children: Susan Ticknor (Art) of Hood River, OR; Lauren Grimm of Vienna, VA; Kathryne Einhorn (Todd) of Okemos, MI; grandchildren: Benjamin, Madeline and Anna Ticknor; Keeley, Sean and Cara Grimm; Samuel, Elijah, Alden and Shea Einhorn. She is also survived by her sister, Darathea Olsen of Boston, MA and many cousins, nieces and nephews.

A Mass of Christian Burial will be celebrated on Friday, October 21, 2017 at Our Lady Star of the Sea, 90 Alexander Lane, Solomons, MD. In the summer of 2017 there will be a Memorial Mass at St. Paul's Church in Norwich, NY.

In lieu of flowers, contributions in memory of Gail Cooney may be made to the Alzheimer's Association, 225 N. Michigan Ave., FL 17, Chicago, IL 60601 or to The Monday Evening Musical Club of Norwich, NY. Funeral arrangements are under the direction of Rausch Funeral home, Lusby, MD.