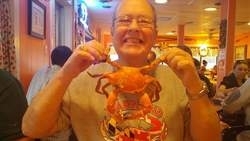 Dennis Wayne Miller, 70, of Cedar Bluff, AL formerly of Charles County, MD died on Tuesday, February 2, 2016. After a nearly two year battle with cancer he passed away suddenly at the residence of his son in Hollywood, MD. He was born in Connellsville, PA on April 22, 1945, the son of Nolan Bradley Miller and Doris Faye Lint Miller. He moved to Washington, DC at the age of 7. After his mother remarried, he moved to Dorchester, MA, where he attended middle school while his step-father served in the military.

They returned to the metropolitan area where Dennis graduated from Oxon Hill High School in 1963, and he began his career with the Washington Gas Light Company. He retired in 1995 after 32 years of service. For the next 7 years, he worked as a private contractor for the Williams Meter Service.

For many years, Dennis was an active member of the Greater Waldorf Jaycees, a member of the WGL Quarter Century Club and the Mechanicsville Moose Lodge. He was a car guy who enjoyed attending Antique Car Shows, reminiscing about his childhood experiences, Southern Maryland Crabs, and spending time with his family and friends.

In 2001, he retired from the industry and moved to Cedar Bluff, AL where he was able to enjoy his life-long passions for fishing, boating and drinking beer with his buddies.

He was preceded in death by his beloved son, Scott, his brother, David and his mother, Doris.

He is survived by his wife of 51 years, Sandra, sons Dennis Wayne, II, Mark and his wife, Bonney, and Matthew and his wife, Jamie. Also surviving are four grandsons, one granddaughter, and two great grandsons. He will be greatly missed, as well, by his sisters-in-law, brothers-in-law, and many nieces and nephews.

A Memorial Life Celebration Gathering will be held on Monday, February 8, 2016 from 5:00 - 8:00pm at Brinsfield-Echols Funeral Home, P.A., 30195 Three Notch Rd., Charlotte Hall, MD. A Memorial Service will be held at 7:00PM at the Funeral Home. Interment will be private.

Memorial donations may be made to American Cancer Society, Johns Hopkins Oncology Center, Baltimore, MD, St. Mary's Hospital Cancer Care Infusion Center, Leonardtown, MD or Hospice of St. Mary's, Leonardtown, MD. Arrangements provided by Brinsfield-Echols Funeral Home.