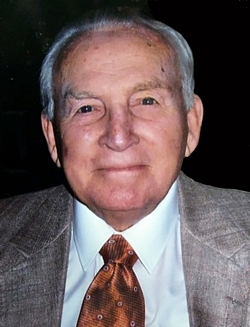 James Ralph "Jim" McNelis, 94 of Solomons, MD, formerly of Arthurdale, WV, passed away on January 29, 2016 at his residence. Born December 11, 1921 in Uniontown, PA, he was the son of the late William Francis McNelis and Viola Christine (Yowler) McNelis. Jim was preceded in death by his wife, Jean E. McNelis; son, Ralph L. McNelis; and sister, Louise M. Shaffer.

Jim graduated from Arthurdale High School in 1939. He graduated from George Washington University with a Bachelor of Arts Degree in journalism in 1956. Jim served in the United States Army from 1942 until 1945. He served as Technical Sergeant in the 405th anti-aircraft artillery battalion. He served in campaigns in France, Belgium and the European Theater of Operations, receiving the European-African-Middle Eastern Campaign ribbon with four battle stars. Jim married Jean E. Strohecker on August 6, 1946 in Washington, DC. Jim and Jean lived in Anacostia, Hillcrest Heights, and then moved to Bay Ridge/Annapolis in 1970. Their home on Lake Ogleton was the backdrop for an extraordinary life.

Jim was the Senior Vice President for Commerce Clearing House, an international publisher, for thirty six years, retiring in December of 1986. He served as Washington News Bureau Chief directing the activities of twenty seven news reporters from 1968 until his retirement in 1987. A member of the National Press Club for over thirty five years, and as a journalist, he reported on the actions of the White House, Congress, and various government agencies. He traveled extensively in Europe and Asia as a member of a group of journalists reporting on world affairs.

Jim was a member of The National Press Club, Anacostia Masonic Lodge #21, Lions Club of Annapolis, Eastern Star #46, and The Annapolitan Club. He enjoyed gardening, fishing, cooking, woodworking, traveling, and writing.

He is survived by his children, Judy Szynborski and her husband Mark of Lusby, MD, and Christine McNelis, her partner Catherine File and daughter Emma File of Lusby, MD, Lee Ann Woodcock of Springfield, VA; grandchildren, Nicole Szynborski, Ryan Szynborski, Daniel McNelis, James McNelis and Michelle McNelis-Brown; great-grandchildren Kerry Brown and Tyrus Brown; daughter-in-law, Patricia McNelis; niece, Elaine Jones; cousin, Audrey Maddas of Connellsville, PA; loving companion Flo Russell of Asbury-Solomons.

The family will receive friends on Friday, February 12, 2016 from 2:00 p.m. until 4:00 p.m. and 6:00 p.m. until 8:00 p.m. at the Rausch Funeral Home, 20 American Lane, Lusby, MD 20657. A funeral service will be conducted by Chaplain Bill Miller on Saturday, February 13, 2016 at 11:00 a.m. in the Rausch Funeral Home chapel. Interment will follow in Washington National Cemetery, Suitland, MD.

Serving as pallbearers will be Ryan Szynborski, Dan McNelis, Jim McNelis, Mark Szynborski, Michael Stanton and Matt Vollono. Serving as honorary pallbearers will be Curtis Bowers, Thomas Szynborski and Vince Szynborski. Memorial contributions may be made to The Arthurdale Heritage Foundation, P.O. Box 850, Arthurdale, WV 26520 or Calvert Hospice, P.O. Box 838, Prince Frederick, MD 20678. Arrangements provided by Rausch Funeral Home.