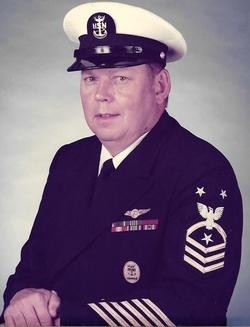 AVCMC Robert John "OD" O'Donnell III, 79, of Lexington Park, MD passed away on Sunday, January 10, 2016 at his residence surrounded by his loving family.

Robert was born on July 8, 1936 in Reading, PA to the late Robert J. O'Donnell, Jr. and Marie Jost. He was married Dorothy "Peggy" Jordan on August 28, 1957 and had over 37 wonderful years until her passing in September 1994.

OD proudly served in the United States Navy from 1957 to his retirement in 1983 as a Command Master Chief. He began his naval career after graduating from boot camp at Great Lakes, IL and was assigned to "A" school training at the Naval Air Technical Training Center (NATTC), Memphis, TN. Subsequent assignments included VR-22 NAS Norfolk, VA; AT "B" school NATTC, Memphis, TN; VP-8 Patuxent River Naval Air Station (PAX), MD; VP-30 PAX; VP-49 PAX, VP-30 Naval Aviation Integrated Logistics Support Center, PAX; VP-16 Jacksonville, FL; and the Naval Aviation Logistics Center, PAX. OD was assigned to the Logistics Systems Development Directorate as the division head, maintenance plans and logistics support analysis division, and also served as the NAVANLOGCEN Command Master Chief. OD flew as a navigator in the P3 Orion airplanes doing surveillance and recognizance during the Vietnam War.

OD was awarded six awards of the Good Conduct Medal; The National Defense Service Medal; two awards of the Navy Unit Commendation; the Meritorious Unit Commendation; two awards of the Sea Service Deployment Ribbon; the Navy Achievement Medal and the Armed Forces Expeditionary Medal. He was the only non-commissioned officer to fly the P-3 Orion, logging over 10,000 hours.

He also worked for UNISYS as a Project Manager until his retirement in 1992. Robert was a worldwide traveler, and he and Peggy enjoyed travelling after retirement. He was an avid hunter, and other hobbies included boating, fishing, crabbing, and family vacations camping.

He was a member of Thomas J. Shryock Lodge #223, Hollywood, MD for over 52 years. He has been involved with Job's Daughters since 1972 when his daughters joined Bethel #42, Hollywood, MD; in which he greatly supported his wife and daughters in their membership, and enjoyed travelling with Peggy and Barbara when they served as the Grand Guardian of Maryland, Job's Daughters International. He is also a member of the Shriners having earned the honor of KCCH. As a member of the Southern Maryland Tall Cedars of Lebanon #159, he served as Grand Tall Cedar in 1975 and 1981.

Robert is survived by his children, Barbara Lynn VonLienen (John) of Sykesville, MD and Valerie J. Hawkins (Jim) of Lumberton, TX, son-in-law, Michael Tenaglia of Mechanicsville, MD, six grandchildren, Leah Danielle Hillan (John), Jamie Elise Hawkins, Seth Alexander Harding, Sara Lynn Breau, Emidio Michael Tenaglia (Susanne) and Katelyn Victoria Quade (Chris); his great grandchildren, Kaiden Hawkins, Isaiah Hawkins, Carmela Tenaglia, Layla Tenaglia and Rebecca Quade. In addition to his parents, he is also preceded in death by his wife, Dorothy "Peggy" J. O'Donnell; his daughters, Patricia Ann O'Donnell and Roberta Lea Tenaglia; and his siblings, Sheila Pannebecker and Walter Benner.

Family will receive friends for Robert's Life Celebration on Sunday, January 17, 2016 from 2:00-5:00 p.m., with a prayer service at 4:00 p.m., at Brinsfield Funeral Home, P.A., 22955 Hollywood Road, Leonardtown, MD. A Funeral Service will be celebrated by Reverend Melinda M. Artman on Monday, January 18, 2016 at 1:00 p.m. at Church of the Ascension, 21641 Great Mills Road, Lexington Park, MD. Interment will be held at a later date in Arlington National Cemetery. A reception will follow location to be determined.

Memorial contributions may be made to Hospice of St. Mary's, Post Office Box 625, Leonardtown, MD 20650 or HIKE-Hearing Impaired Kids Endowment Fund, Attn: Roberta Ridenour, 12915 Holdridge Road, Silver Spring, MD 20906-4025. Arrangements by the Brinsfield Funeral Home, P.A., Leonardtown, MD.