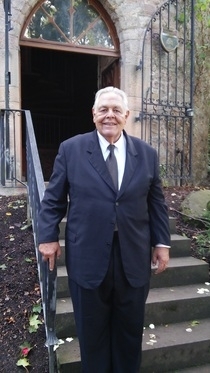 William (Bill) D. Kenworthy of La Plata, MD passed away on Sunday, January 10, 2016 at the age of 69. Bill was born to parents, Eugene and Ara Kenworthy on August 21, 1946 in Spokane, WA.

He grew up in Spokane and attended John Rogers High School where he was active in all sports including football, baseball, track, wrestling and golf. He went on to graduate from Washington State University where he attended on a football scholarship.

Bill began his career in food service administration soon after college. He was working for dining services at Boise State College in Idaho where he met his wife, Vicki. They were married on August 17, 1973.

Bill was soon transferred to the University of Alaska in Fairbanks. Bill loved Alaska and thoroughly enjoyed the opportunities this position gave him. While in Fairbanks, two of the couple's children were born, Jeremiah and Jessica. Always looking for a challenge, the family moved from Alaska to Spokane, WA in 1980 where Joseph, their third child was born.

Another career opportunity came along and the family moved to Maryland in 1982, allowing Bill to enjoy his love of sailing and fishing on the Chesapeake Bay. Another favorite pastime that Bill enjoyed was coaching and watching all of the sports his children participated in. Throughout his working years, Bill was a top business executive and travelled internationally on many occasions.

He is survived by his wife of 42 years, Vicki Kenworthy; son and son's fiancée, Jeremiah Kenworthy and Nicole Cane; daughter and son-in-law, Jessica and Leland Moore; son and daughter-in-law, Joe and Julia Kenworthy; brother and sister-in-law, Gary and Carol Jean Kenworthy and grandchildren, Garrison, Gabby and Grayden Moore.

The family will receive friends from 3:00 PM to 6:00 PM on Thursday, January 14, 2016 at Arehart-Echols Funeral Home, 211 St. Mary's Ave., La Plata, MD. Interment to be held at a later date. Arrangements provided by Arehart-Echols Funeral Home.