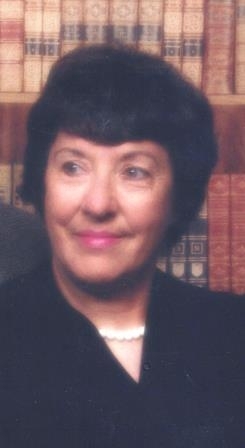 Virginia Betty "Ginny" Burns, 87, of Lusby, MD formerly of Suitland, MD passed peacefully into the night on January 5, 2016 in Prince Frederick, MD. Born August 31, 1928 in Washington, DC, she was the daughter of the late Burton Cole and Margaret (Albright) Cole.

Ginny graduated from Maryland Park High School in 1945. She was an Information Analyst with the CIA in Langley, VA for 35 years. After her retirement in 1978, she moved to Lusby, MD.

Ginny was a member of the SYB Optimist of Lusby, Solomons Optimist, Drum Point Yacht Club, Drum Point Club, and SIRA. She loved sports of all kinds, but she especially loved baseball. She was even teased about having Cal Ripkin, Jr. as a second boyfriend since she always sat next to him while he was signing autographs at the world series.

She loved to dance, and she made a mean key lime cake. Ginny was a master at cleaning and patching up uniforms, and she often did them by the dozens at a time for SYB. She could out type anyone in her day at 120 wpm, and she hardly ever missed an episode of Wheel of Fortune or Jeopardy. Ginny touched the lives of everyone around her with her warm smile and giving heart, and she will truly be missed by all who knew her.

Ginny is survived by her husband, William Howard Burns, Sr. whom she married on May 15, 1965 at Andrews Air Force Base; her grandchildren, Christine Michelle Burns, William Howard Burns, III, and Krystal Marie Burns; great-grandchild, Avery Marie Booth; sister, Dorothy Saporito from California; and twenty nieces and nephews. In addition to her parents, she was preceded in death by her son, William Howard Burns, Jr.; and siblings, Burton Cole, George Cole, Margaret Stewart and William Cole.

Family will receive friends on Wednesday, January 13, 2016 from 10:30 a.m. until 12:00 p.m. at the Rausch Funeral Home, 20 American Lane, Lusby, MD 20657. A funeral service conducted by Reverend Charles Harrell will follow at 12:00 p.m. in the funeral home chapel. Interment will follow in Chesapeake Highlands Memorial Gardens, Port Republic, MD.

Serving as pallbearers will be David Mindick, John Kelley, Carlton Luce, Daniel Stewart, William Burns III, and Thomas Burns, Jr. Serving as honorary pallbearers will be James Burns and James Brox. Memorial contributions may be made to the Alzheimer's Association, National Capital Area Chapter, 3701 Pender Drive, Suite 400, Fairfax, VA 22030. Arrangements provided by Rausch Funeral Home.