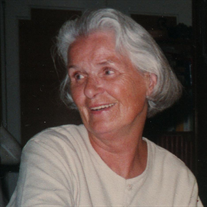 Denise "Martine" Lewis, of Owings, MD passed away peacefully surrounded by her family on Sunday, January 3, 2016 at the age of 85. She was born and raised in Meriel, France on October 21, 1930 to Adrienne and Robert Porlier.

Her first job as a young adult was working for an oral surgeon in Paris, France. Her next job was in the cosmetic retail sales. It was during this time she met and married a young Air Force Airman in 1958. She traveled as a military spouse; becoming a naturalized citizen of the United States of America in 1963. She was a homemaker raising their three children.

Upon divorcing, she settled in El Paso, TX and went back to cosmetic sales, retiring in the late 1990's. Martine moved to Maryland in 1987 to be closer to her family. She enjoyed reading, traveling, teaching French to adults and swimming. She really enjoyed spending time with her family, especially her grandchildren.

She is the beloved mother of Jessie Sawyer and her husband Neal of Owings, MD, Karen Forsht and her husband David of Dunkirk, MD and the late Dominique Saco. She is the proud and devoted grandmother of Wesley and Nathan Sawyer and Samantha and Jacob Forsht.

All services will be private. Arrangements provided by Lee Funeral Home.