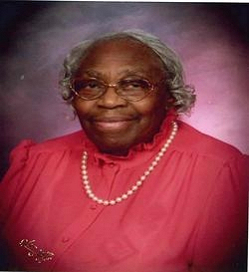 Alice T. Thomas, 97, of Avenue, MD departed this life December 20, 2015 at Jo Bean's Assisted Living, Accokeek, MD. She was born on August 13, 1918 to the late James A. Carter and Margaret Woodland Carter.

Alice was educated in the St. Mary's County Public School System. She married Lewis A. Thomas, Sr. of Bushwood on September 29, 1935. They were united for 65 years before his passing. From this union three children were born, Theresa, Lewis Jr. and Janice. She also raised three nieces, Jean Roberts, Anne Jones, Delores Gilbert and a nephew, John A. Carter.

In her early years, Alice was active in many community organizations such as, the Homemakers Club, 4H Club, and Sacred Heart Beneficial Society. She was an active member of the Ladies Auxiliary #305, Our Lady of Fatima Sodality and a lifelong member of Holy Angels Catholic Church, Avenue, MD. She retired in June 1980 from St. Mary's County Board of Education as a dedicated cafeteria aide. She also worked at St. Mary's Hospital for many years. One of her goals was to be a nurse.

Alice's favorite room in the house was the kitchen. You would always find her baking pies, cookies, cakes, especially her delicious pound cake. Some of her favorite pastimes were catching crabs, gardening, picking fruit, canning, making jelly and quilting. When Alice engaged you in conversation the topics was about politics and current events. She loved her family and enjoyed visiting with them, especially her grandchildren and great grandchildren.

She leaves to morn and remember her happy times; her daughters, Theresa (Wallace) and Janice (Richard); nieces, Anne Jones; Delores Gilbert; daughter-in-law, Gayle Thomas; grandchildren: Theresa A. Thomas; Sean C. Diggs; Stephen T. Diggs; step grandchildren: Beverly Franks, Cherrie Ensley, Adolph Pearson, Gwendolyn Pearson, Diane McNeal; and a host of great grandchildren, nieces, nephews and devoted friends. In addition to her parents, she was also preceded in death by her husband, Lewis A. Thomas, Sr.; son, Lewis A. Thomas, Jr.; nephew, John A. Carter; niece, Jean Carter Roberts; brothers: James A. Carter, Leonard Carter, John Q. Carter, Howard Carter and Claude Carter; sisters: Clara Hill, Mattie Hedgeman, Mary E. Johnson and step grandson, Shay Young.

Family will receive friends on Tuesday, December, 29, 2015 from 9:00 to 11:00 a.m. at Holy Angels Catholic, 21340 Colton's Point Road, Avenue, MD 20609. A Mass of Christian Burial will be celebrated by Reverend Michael Tietjen at 11:00 a.m. Interment will follow in Sacred Heart Catholic Church Cemetery, 23080 Maddox Road, Bushwood, MD. Arrangements by Brinsfield Funeral Home, Leonardtown, MD.