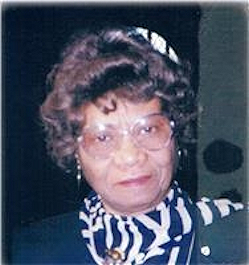 Our beloved Mom, Alice Lucinda Lee Porter, 94 of Dameron, MD departed this earthly life on Sunday, December 20, 2015. Alice was born on December 25, 1921 in Ridge, MD to the late Roy Lee and Pearl Lee Hopewell. She was the fourth of 6 children. She attended St. Peter Claver School and was a faithful member of St. Peter Claver Catholic Church.

On July 22, 1937, Alice was united in marriage to William Henry Porter and they were blessed with 10 children. She accepted, excelled and exceeded in her motherhood role. Alice was a life member of the Knights of St. Jerome, Dameron, MD and the American Legion Post 255, Ridge, MD. She was also a member of the St. Peter Claver Choir and Solidarity Society.

Alice was a world traveler to include Germany, Trinidad, Kansas, Canada and other places of interest. Alice held several domestic jobs to include school transportation driver, cook and maid. She was a foster mother to several children and senior citizens in the county.

She was preceded in death by her husband, William A. Porter; daughter, Mary Alice; parents, Roy and Pearl Lee; sister, Elsie Porter; brothers, George, Paul and James Lee; grandchildren, John Edward Porter, Jr. and Vincent Chamberlain. Alice leaves to cherish her memories her children, Mary Anita (Eugene), William A. (Kay), John (Darlene), Mary Agnes (Frank, Sr.), Sarah E., Joseph (Konnye), Jacob (Jean), Alice M. (Greg) and Carolyn; sister, Estelle Kittrell; sister-in-law, Grace Virginia Porter, 48 grandchildren, 23 great-grandchildren, 6 great great-grandchildren and a host of nieces, nephews and other loving relatives and friends.

Family will unite with friends on Saturday, December 26, 2015 for visitation at 9:30 am until Mass of Christian Burial at 11 am at St. Peter Claver Catholic Church, 16922 St. Peter Claver Road, Ridge, MD. Interment to follow in the church cemetery. Arrangements provided by Briscoe-Tonic Funeral Home.