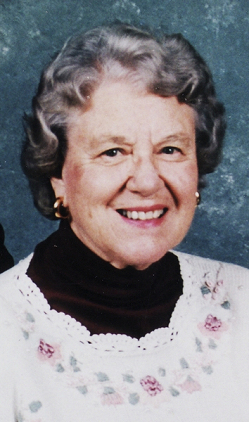 Rose Beatrice Bailey of Loveville, Maryland passed away on Tuesday, December the 15th at St. Mary's Hospital in Leonardtown, Maryland. She was born April 30, 1932 in Oakley, Maryland to Benjamin T. Farrell and Blanch E. (Graves) Farrell.

She was preceded in death by her husband of 50 years Joseph Warren (2003), son Joseph Wayne (1975), siblings Agnes Genevieve Thompson, (Albert), Mary Elizabeth Farrell, Susan Kathleen Abell (Francis), Benjamin Thomas Farrell Jr. (Mary Frances), Richard Milford Farrell (Geneva) and James Allan Farrell.

She is survived by her brother James C. Farrell (Margaret Ann) of Chaptico her sons Roger Dale Bailey (Penny) and Richard Glenn Bailey. Granddaughters Emily Rose and Mikaela Jo Bailey who were her Pride and Joy.

She graduated from Margaret Brent High School in 1949. After graduation she worked at the Ben Franklin 5&10 in Leonardtown, Maryland. In January 1953 she married Joseph Warren Bailey at Holy Angels Catholic Church in Avenue, Maryland. Bea and Warren had three sons - Joseph Wayne Bailey, Roger Dale Bailey and Richard Glenn Bailey.

She volunteered as a Teacher's Aide at Mother Catherine Spalding School where all 3 of her children attended. She drove a School Bus for her father-in-law and later her brother-in-law. In 1967 she took a paraprofessional position with St. Mary's County Public Schools where she worked for the next 25 years and retired in 1992.

Living near the water, Bea did a lot of crabbing, fishing and swimming. She also enjoyed reading, watching EWTN, Game Shows, Nationals, Orioles, Redskins and other sporting events. Flowers, gardening, and just being outdoors were some of her favorite pastimes. Bea loved watching DVD's sent to her from her sister-in-law (Estelle Wood) of her family's activities and trips to Maryland.

Bea and Warren looked forward to spending time on the weekends with Warren's brother Wilmer and his wife Loraine. They took a lot of short fun trips together and often visited family and friends. Bea truly loved family, life and all people that she came in contact with! She will be missed by all who knew her.

The family will receive friends on Friday, December 18, 2015 from 5:00PM to 8:00PM with prayers recited at 7:00PM in the Mattingley-Gardiner Funeral Home, Leonardtown, MD. A Mass of Christian burial will be celebrated on Saturday, December 19, 2015 at 10:00AM in St. Joseph's Catholic Church with Father Keith Woods officiating. Interment will follow in the church cemetery.

Pallbearers are Jimmy Bailey, Chris Bailey, Paul Knight, Francis Allan Abell, Tommy Farrell and Cindy Reynolds. Honorary Pallbearers are Ronnie Thompson, Timmy Farrell, Kevin Farrell, Joe Bailey, Allan Bailey, Lenny Thompson, Johnny Knight, Bill Hancock, and Mike Lacey. Arrangements provided by Mattingley-Gardiner Funeral Home.