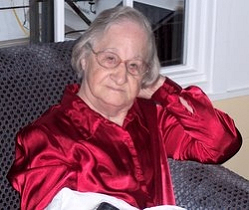 Charlotte A. Morse, 91, of Lexington Park, MD died Thursday, December 3, 2015 while visiting her daughter in Fleming Island, Florida. She was born on October 14, 1924 in Chicago, Illinois to the late Joseph and Louise Budiseh Jablonicky. Charlotte lived a long, productive life as a wife and mother.

While raising eight children, at times on her own while her husband was sea duty. She also was a long time member of the Chief Wives Club, volunteered for the Red Cross, a member of the Red Hat Society, a seamstress, volunteered for Bay District Seniors, and even was a substitute mail carrier for a time. She long enjoyed playing cards with friends every week. Charlotte had an active, inquiring mind and continued to learn new things until the end. She loved using he mini IPad to check her email, catch up with grandchildren on Facebook, find information on the Internet and read eBooks. She loved to create gifts for family and friends, knitting, crocheting, and making jam until her end.

She is survived by her six children, Carolyn LaChance and her husband Bob of Camp Springs, MD; James Morse and his wife Susan of Bethlehem, PA; Bill Morse of Lexington Park, MD; Linda Durkin and her husband Matt of St. Inigoes, MD; Janet Harper and her husband Henry of Poquoson; Virginia and Lisa Darby of Fleming Island, FL., twenty grandchildren, 13 great grandchildren and a host of other relatives and friends.

Family will receive friends on Wednesday, December 9, 2015 at 5:00 p.m. from 8:00 p.m. at Brinsfield Funeral Home, 22955 Hollywood Road, Leonardtown, MD 20650, with a prayer service at 7:00 p.m. Reverend Michael Sajnog officiating. Interment will be private.

Memorial contributions may be made to Wounded Warrior Project, Post Office Box 758517, Topeka, KS 66675 or American Heart Association, Post Office Box 5216, Glen Allen, VA 23058-5216. Arrangements by the Brinsfield Funeral Home, P.A., Leonardtown, MD.