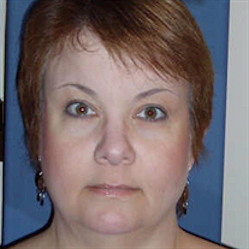 Sherry Marie Britton of Chesapeake Beach, MD passed away on Tuesday, December 1, 2015, at the age of 55. She was born on February 22, 1960 in Durant, OK to Lucile (Boyd) and Dock O. Waller.

On March 12, 2015 Sherry and her husband Michael celebrated their 22nd wedding anniversary. Prior to her retirement, she worked for the Architect of the Capital as a Supply Tech for 29 years.

Sherry had a love of life and family. Her family was her passion. She also enjoyed animals of all kinds and floral arranging. She really enjoyed her 2010 Chevy Camaro. She was a volunteer for Calvert Hospice.

Sherry is survived by her husband Michael, children Amy Martin and her husband A. J., David Tipper, Jr. and Audrey Britton. She was the devoted grandmother of Jon Hoff and Amber Eckenrode and sister of James Waller.

In lieu of flowers, memorial contributions may be made to Calvert Hospice, P O Box 838, Prince Frederick, MD 20678. Arrangements provided by Lee Funeral Home.