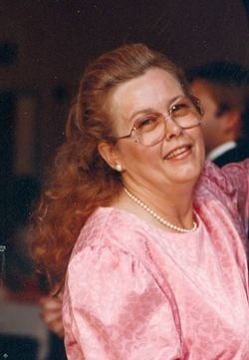 Janet Ann Lyons, 68, of Mechanicsville, MD, passed away on November 30, 2015 at her residence in Mechanicsville, MD. Jan was born April 23, 1947 in Frederick, MD. She was the daughter of John Michael Burke and Ruth Marie (Allnutt) Burke.

Jan was a member of the U.S. Coast Guard Auxiliary and the Maryland School Food Service Association. She graduated from Richard Montgomery High School in 1965 and got married in 1966. Jan worked for the Charles County Public Schools as a Food Service Manager. She moved to St. Mary's County in 1975. She retired from Charles County Public Schools in 2008. Jan loved camping at the beach with her granddaughter Erin, her furry friend Molly, and family. She also loved volunteering at her granddaughter's school, St. Mary's Bryantown.

Jan is survived by her daughter, Cynthia Marie McRoy (Tony) of Mechanicsville, MD; her granddaughter, Erin Ann McRoy; brother, John A. Burke (Lisa) of Gaithersburg, MD; sister, Carol L. O'Neil of Marriottsville, MD; sister-in-law, Kathleen Lyons of Derwood, MD; nieces, Melody A. O'Neil of Columbia, MD, Jennifer Keener (Dennis) of Pittsville, MD; nephews, Matthew R. Burke of Gaithersburg, MD and Ryan Murray of Portland, OR. In addition to her parents, she is preceded in death by her husband Paul J. Lyons and brother-in-law, William O'Neil.

Pallbearers will be: Matthew Burke, John Burke, Tony McRoy, and Luke Slay. Family will receive friends for Jan's Life Celebration Visitation on Wednesday, December 9, 2015 from 10:00 a.m. to 11:00 a.m. at St. Mary's Catholic Church, 13715 Notre Dame Place, Bryantown, MD 20617. A Mass of Christian Burial will follow at 11:00 a.m. with Father Rory T. Conley officiating. Interment will be private at 1:00 p.m. at Maryland Veterans Cemetery 11301 Crain Highway, Cheltenham, MD 20623.

In lieu of flowers, memorial donations may be made to: St, Mary's Hospice, P. O. Box 625 Leonardtown, MD 20650 or St, Mary's Bryantown School, 13715 Notre Dame Place, Bryantown, MD 20617. Arrangements provided by Brinsfield Funeral Home.