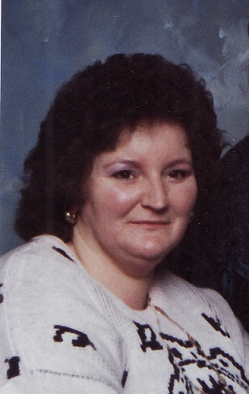 Ruth "Ruthie" Elizabeth (Alvey) Chedester passed away at St. Mary's Hospital in Leonardtown, MD on 25 November 2015 surrounded by her loving family. She was born on 5, July 1955 to John Aloysius Alvey, Sr. and Ruth Elizabeth (Curry) Alvey. Ruthie graduated from Chopticon High School in 1972.

She is survived by her beloved husband Tommy Ray Chedester whom she married on 12 May 1990. They just celebrated their 25th Wedding Anniversary.

Ruthie is also survived by her siblings John A. Alvey, Jr. and his wife Maxine of Port Tobacco, MD, Lorraine M. Alderman of Hollywood, MD and James "Jimmy" Alvey and his companion Elaine Macmillan of Myrtle Beach, SC. She was the very loving and supporting Aunt to Debbie and Michelle Alvey, Sharon Alderman Johnson and William "Billy" Alderman and his wife Alice, Shawn Alvey, Jade Alvey and the late Tonya Garner. She was especially proud of her great nieces and nephews Jessica Alderman Cusic and her husband John, Rebecca and Nathan Johnson, and Jackson and Zachary Alderman.

Ruthie was a lifelong resident of St. Mary's County and spent the last several years of her life as a daycare provider. Although Ruthie had no biological children, she was the second mother to so many. Her love of children and compassion for caring for them was one of her most impressive traits. Her responsibilities for caring for "her daycare kids" went far beyond the daycare hours she cared for them. She loved all of them as they were her own and it was evident in her relationships with them. Most of the children she cared for from infants until they were teenagers. She would attend their sporting events, concerts, etc. whenever she was able to.

She went above and beyond her duties as their provider and continued to be involved their lives long after they grew up. She left lasting impressions on them with her love, arts and craft projects, structure and her endearing soul. She was also very active in the Daycare Association performing duties of many positions including Daycare President. She worked extremely hard and was very active in that organization.

Her family was very important to her and she spent as much time as she could with them. She was always the one planning holiday get together's, impromptu dinners, "girls days out" and shopping trips. Her relationship with her sister, Lorraine was so very strong and they spent most of their time together. She was so very involved in her nieces and nephews lives, always ensuring she attended as many events in their lives as she could. She was a huge support to all of them with her time, advice, fun outings and family game nights.

Ruthie spent her life always lending a helping hand to anyone she met and would go out of her way to assist anyone in any way. Her loving and caring soul left an impression on so many and it was very important to her to always make people feel special and loved. She had many lifelong friends because of her caring nature. Her sense of humor, fun demeanor, love of life and caring soul will be a legacy that will live forever.

Ruthie and husband Tommy Ray were involved in many groups during their marriage, and met an incredible amount of friends that they call family. Her relationships with those people carried on long after their involvement in those groups.

The family will receive friends on Monday, November 30, 2015 from 5:00 PM ¬Ė 8:00 PM with prayers recited at 7:00 PM in the Mattingley-Gardiner Funeral Home, Leonardtown, MD. A Funeral Service will be held on Tuesday, December 1, 2015 at 10:00 AM in the funeral home chapel with Father Raymond Schmidt officiating. Interment following at St. John's Catholic Cemetery, Hollywood, MD.

Pallbearers will be: William "Billy" Alderman, Shawn Alvey, John Cusic, Jackson Alderman, Wade Johnson, and Kyle Wood. Honorary Pallbearers will be: Jessica Cusic, Rebecca Johnson, Nate Johnson, Zachary Alderman, Jade Alvey, and Sharon Johnson. In lieu of flowers, the family has named Hollywood Vol. Rescue Squad P.O. Box 79 Hollywood, MD 20636 for donations in Ruthie's name. Arrangements provided by Mattingley-Gardiner Funeral Home.