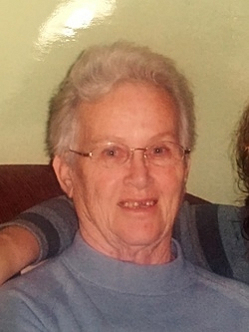 Florence Gertrude Buckler, 82, of Chaptico, MD died on November 28, 2015 at her home surrounded by her loving family. Born October 11, 1933 in Mitchellville, MD she was the daughter of the late Ollie Joseph Walker and Marie King.

Florence was born and raised on a farm, then married her beloved husband, Joseph I. Buckler, Sr. and continued to live and work on a farm. They celebrated 50 wonderful years together before his passing in October 2001. She was a loving wife and devoted mother.

She was an excellent cook and prepared many delicious hot meals for her family on a daily basis. Her Sunday dinners were something the whole family looked forward to. She also tended to beautiful flower gardens and all household renovations. There was not a project she couldn't tackle, from electrical work to removing interior walls, she could do it. She was a talented seamstress and made many of her children's clothes. She also enjoyed cross stitch and crossword puzzles. However, her greatest love was for her family, whom she loved to spend her time with.

Florence is survived by her children, Florence M. Matlock, Elizabeth A. Abramovich, Joseph I. Buckler, Jr. (Susan), Ronald S. Buckler, Sr. (Mary), James A. Buckler, Sr. (Sharon), Fay C. Wood, Raymond B. Buckler, Sr., Glen G. Buckler, Sr. (Kathy), Joanne T. Catterton; her brothers, Joseph Walker, Vincent Walker, Richard Walker, Paul Walker, Gene Walker, and Steve Walker; sister, May Walker; 28 grandchildren; 46 great grandchildren; and many extended family and friends.

In addition to her parents and husband, she is also preceded in death by her children, Kathy I. Nowell and Daniel A. Buckler; her brothers, Francis Walker, Oden Walker, and Edward M. Walker and her sisters, Catherine Thompson, Marian Peterson, and Evelyn Walker.

Family will receive friends for on Friday, December 4, 2015, from 9:00 to 11:00 a.m. at Sacred Heart Catholic Church, 23080 Maddox Road, Bushwood, MD 20618. A Mass of Christian Burial will be celebrated by Reverend Anthony Lickteig at 11:00 a.m. Interment will follow in the church cemetery.

Serving as pallbearers will be William J. Abramovich, J. Charles Matlock, Ronald S. Buckler, Jr., J. Anthony Buckler, Glen Buckler Jr., and Christopher Wood. Josh Alan Farrell will serve as an honorary pallbearer. Memorial Contributions may be made to Hospice House of St. Mary's, P.O. Box 625, Leonardtown, MD 20650. Arrangements by the Brinsfield Funeral Home, P.A., Leonardtown, MD.