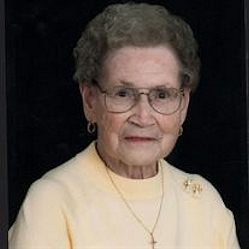 Dolores Frances Moore, of Prince Frederick, MD passed away peacefully with her family by her side on Friday, November 20, 2015 at the age of 95. Dolores was born to Frances (King) and Thaddeus Boyer, on September 14, 1920 in Cadet, MO. She and her husband of almost 60 years, Harry Joseph Moore, Sr., were married in Cadet on May 3, 1939.

Among her many talents were sewing, crocheting and cross stitch. She especially loved and was very adept at ceramics. During the years that she and her family followed her career Air Force husband, she was a waitress in many locales. He retired to Maryland in 1966. In the early 1980's, they left the snow and moved to Valrico, FL, where she was a volunteer cleaner at Nativity Catholic Church and a much sought after private house cleaner. She returned alone to Maryland in 1999 after the death of her husband to be closer to the majority of her family.

She was a faithful parishioner and volunteer of St. Ignatius Catholic Church in Temple Hills, MD; Nativity Catholic Church in Valrico, FL and finally St. John Vianney Catholic Church in Prince Frederick, MD.

Dolores is the loving mother to Janet Gee of Prince Frederick, MD, Michael and his wife Karen of New Bern, NC, Harry Joseph, Jr. and his wife Donna of Toxaway, NC, Marilyn Hardesty of Prince Frederick, MD and Yvonne Noonan and her husband Steven of Waldorf, MD. She also leaves 15 grandchildren, 26 great-grandchildren and 10 great-great-grandchildren (with one more on the way). She is also survived by one sister, Avis Bourisau of Greenville, SC, a multitude of nieces and nephews, and her many friends and neighbors at Chapline House.

She is preceded in death by her parents, her husband, her sisters – Bernice, Alma, Dorothy, Leona and Patricia, as well as her brother Adrian.

Her internment will be beside her husband at Resurrection Cemetery in Clinton, MD. In lieu of flowers, memorial contributions may be made in Dolores' memory to Calvert Hospice, PO Box 838, Prince Frederick, MD 20678. Arrangements provided by Lee Funeral Home.